From the LuAnn Bennett for Congress: "No Comment Comstock" Continues to Dodge Trump Support  McLean – Frank Wolf, former Virginia 10th district representative and long-time mentor to...
The
latest Congressional scorecard from the League of Conservation Voters
flunks every single Virginia Republican, including House members like Scott Rigell, Rob Wittman and Frank Wolf who'll be trying to sell themselves as moderate in November. Committed opponents of clean air & water, public health, and wildlife like Eric Cantor, Randy Forbes, Bob Goodlatte, Morgan Griffith and Robert Hurt all scored in the teens. Meanwhile, Virginia House Democrats Gerry Connolly, Jim Moran and Bobby Scott all scored 100%. On the Senate side, both Sen. Mark Warner and Jim Webb scored 100%, though given that both support oil drilling off Virginia's shores and Webb has
opposed clean air regulations
, neither is perfect on conservation.
What drew the LCV's ire? Every single Republican voted for the House Republican budget resolution to gut the Clean Air Act & Clean Water Act, to protect billions in tax giveaways for oil corporations that banked $137 billion in profits in 2011, and to weaken offshore drilling safety rules even as they pushed to bring oil drilling to the Virginia coast:


Just got this email from a local conservationist:
Right now there is a bill in the House of Representatives to stop that rule from moving forward: the "Transparency in Regulatory Analysis of Impacts on the Nation (TRAIN) Act" (H.R. 2401). The bill blocks and indefinitely delays two of the most important clean air regulations of the past few decades - including the mercury and air toxics standards that we all advocated so hard for.

Based on our outreach here in DC, we believe that Congressman Frank Wolf (R-VA 10) is yet undedicated on whether he'll vote "party-line" in support of this bill, or stand up for public health and wildlife and oppose the TRAIN Act.
Which way will Rep. Wolf vote today? If you live in
Virginia's 10th Congressional district
,
please call Rep. Wolf's DC office at 202-225-5136 right now
. If you can't get through to Rep. Wolf's DC office, call his Herndon office at 800-945-9653 or his Winchester office at 800-850-3463. Let us know what you hear in comments.
I had a chance to meet
General John Douglass
a couple weeks ago, and was very impressed. I definitely feel like he's a strong challenger to Frank Wolf, aka the rubber stamp for John Boehner and Eric Can'tor's radical, right-wing agenda in the House of Representatives. Clearly, 2012 should be the year that Frank Wolf is sent to a well-deserved retirement, and replaced by someone like General John Douglass. Anyway, check out the press release and well-made video and see what you think.
Our country is under tremendous stress. But too many in Washington are playing political games instead of facing up to the challenges of jobs, energy, transportation, education, health care, national security, and more.

I've served this nation for over three decades. I've served presidents of both parties. I rose to the rank of General because I have a proven record of standing up, taking on the tough fights, and winning them.

That's why I've decided to run for Congress. I hope that you'll join me.

This won't be easy. My opponent has been in Congress for decades, getting a free pass for too long. As I've talked with my neighbors throughout Virginia's 10th district, I've heard them loud and clear: It's time for an independent voice and a focus on practical solutions to our nation's challenges.

We face grave challenges. But when it comes to America, failure is not an option.

Here's what you can do: Watch my announcement video and share it with your friends. Visit JohnDouglassForCongress.com to learn more and endorse my candidacy. Make a financial donation to kick off our campaign. Share your ideas with me on Facebook.

There's a long road ahead. And today, we take the first step.

John

Brigadier General John Douglass (ret.) Two points on this: 1) gotta hand it to Frank Wolf, at least he's been consistent in his dislike of tunnels, either at the airport (where we don't need one) or in Tysons Tunnel (where we badly DO need one); and 2) good for the union members protesting Wolf's constant anti-worker, pro-corporate, right-wing ideological votes on everything from health care reform to the environment to huge tax breaks to rich people to defunding Medicare to...you name it. Every time Wolf pokes his head out of his spider-hole, he deserves to be confronted with protests like these.
Rep. Frank Wolf wants you to think he's taking a bold stand against fraud, loudly squawking for an
independent auditor
on the 2nd phase of the Metro to Dulles project, estimated to cost as much as $4 billion:
Rep. Frank R. Wolf (R-Va.), whose district encompasses much of the route for the new Metrorail extension into Loudoun County, is requesting that the agency overseeing construction of the line bring in an outside auditor to monitor design and construction of the second phase of the project.
The project, of course, hasn't even begun taking bids yet. But
reality has never stopped Rep. Wolf from trying to get attention
! Why wait until the project has actually begun to issue ominous warnings about waste, fraud & abuse to divert attention from the fact that you're
holding up tax cuts for everyone
to get even bigger tax cuts for your wealthiest donors?
Caw
!
Strangely, I haven't heard the fraud peacock squawk about this billion-dollar transportation expenditure:

By the end of the December, the Virginia Department of Transportation will have advertised $1.1 billion in construction and maintenance projects since the fiscal year began on July 1, Gov. Bob McDonnell (R) told the Dulles Area Transportation Association at a luncheon Monday. About $500 million of that figure will be advertised just this month.
Why no dire warnings from Rep. Wolf about waste, fraud & abuse on this project? Oh, right. Because
this
project is supported by Virginia's Republican governor. And
Frank the fraud peacock is partisan above all else
, only getting his feathers up about Democrats - never members of his own party. As the following statement by Jeff Barnett exemplifies, Frank Wolf continues to demonstrate his contempt for his district and for democracy. What do people in the 10th CD see in this guy anyway (other than his 90%+ lockstep voting record with BONEr and Can'tor, of course)?
Frank Wolf Dodges Another Joint Appearance
Refuses to Attend Fairfax Chamber of Commerce Debate

Fairfax, VA - Jeff Barnett, Democratic nominee for Congress in Virginia's 10th Congressional District, appeared this morning in a candidate forum hosted by the Fairfax County Chamber of Commerce at George Mason University. Rep. Frank Wolf, Barnett's opponent, did not attend the forum, continuing his longstanding refusal to engage in public debate.

If anyone can make sense of Frank Wolf's blithering pabulum in this video, please leave your explanation in the comments section. Other than that, the only thing I can chalk this one up to is that Wolf's been in Congress way, way, wayyyyyyy too long. Like, about 16 years since he signed the Contract with America, which included a term limit pledge of 12 years. Uhhhhh.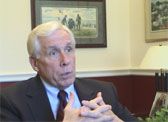 Typical Republican charade: Cry that the free market will magically regulate commerce. Sanction a private monopoly then act surprised that it acts to its own advantage. Obfuscate and make unsupportable charges that appeal to emotion. Representative Frank Wolf (R-VA) should instead be asking why a Spanish firm should own highway 460.
"In my opinion, the current law protects the interests of the owner of the toll road rather than the consumers of the road." - Frank Wolf
It must be an election year. Congressman Wolf is urging Virginia Transportation Secretary Sean Connaughton to support state legislation to roll back the tolls along the Dulles Greenway. So, this "conservative" Republican calls for greater regulation? Government is the answer? Frank, either read the code or jettison the agenda.
"It's highway robbery. It's a disgrace. Everyone knows that these tolls are ripping people off and there's not much we can do about it." - Frank Wolf
Not true at all.
Frank Wolf figuratively took the air out of Bobby McDonnell's ambitions of increased privatization in Virginia, in this case privatization of our infrastructure. Here's the article from
WTOP
.
It seems that Congressman Wolf, who just this once, makes sense, sent a letter to State Transportation Secretary, Sean Connaughton, which can be read here, urging reforms. The Congressman, expressed his strong opposition to the ever-increasing tolls on the Dulles Greenway. Calling the tolls essentially "highway robbery, Wolf called for action. Just what many of us have been saying. Wolf also said:


"The Greenway is perhaps the most expensive toll road per mile in the country. This is a quality of life issue for those people living along the Greenway or who use it on a daily basis."

Then we read something which is no surprise to NOVA drivers, but may floor those from the rest of the state:


Base tolls go as high as $4.50 per trip. Combined with the Dulles Toll Road, some drivers are paying $10.50 a day on tolls. Wolf says people who pay these maximum tolls are spending as much money to use the road as they would spend on a monthly car payment.