Home
Tags
Southwest Virginia
Tag: Southwest Virginia
by Dan Sullivan Lesson one: don't take an adversarial approach. Last session, the then Governor, Terry McAuliffe, obstinately returned the same proposal that had been...
by Democratic Promise An Open Letter to President Trump in response to his tweet at Southwest Virginia Democrats Pointing fingers and tweeting empty promises does nothing to...
From DPVA: Ahead of the Pence-Gillespie Campaign Event, Sen. Edwards and  Del. Rasoul Condemn Trump-Pence Administration's New Effort to Sabotage Virginians' Health Care Democratic Party of...
This week, the President sent a
memo
to America about his plan to protect the environment. In that spirit, and on a much smaller, albeit important scale, this is a memo to those living in the New River Valley of Southwest Virginia. Recent efforts by dedicated environmental advocates including the
Environmental Patriots of the New River Valley
and the New River Valley Chapter of the Sierra Club have shown a light on air pollution coming from from the Radford Army Ammunition Plant (RAAP)
here
. A potentially game-changing
improvement
may actually happen. That game changer is an enclosed state-of-the-art incinerator for toxic waste destroyed at the arsenal. Astonishingly, now toxic material from munitions manufacture is open burned! The permit for the open burning is up for review and possible renewal. The US Army, the British contractor BAE (which manages the plant for the Army)and The RAAP facility have announced they are planning to upgrade the facility. This is too important to sit on the sidelines. Make you voice heard. Continued open burning is not an appropriate 21st Century solution.
Please turn out for the public meeting Wednesday, August 5th, 6 PM, at the Blacksburg Public Library, 200 Miller Street. A spokesperson for the arsenal will attend.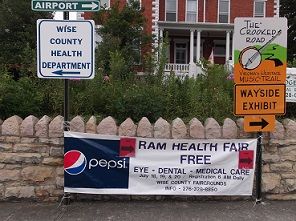 It is been called a field hospital, but really isn't. There is some minor surgery, mostly dental, but most care falls into more clinical than surgical. An impressive endeavor in any case and outclasses any medical or dental activity the U.S. military routinely provides overseas. That was striking.
Odd what catches one's attention. The nice tents and orderly processes were expected. What caught my eye was the condition of the Wise County Fairgrounds as the Remote Area Medical (RAM) effort came to an end. The clients left the grounds far tidier than I would have ever expected. In fact, quite clean. A sign of respect? Or just the nature of people in this part of Virginia. Everywhere you go people are friendlier and more open to strangers than in more urban areas.
At the close of this RAM I was told that the last count at mid-morning had been 2,700 and that the total was likely near last year's 3,000 treated. The numbers are misleading. At every RAM, people are turned away and there is no accurate count of those. If the capacity supported more, the numbers would have some meaning. What is clear is that demand is growing either from awareness or economic conditions.
What I didn't know is that Wise is just one of three clinics that RAM has organized in far Southwest Virginia this year. Next: Jonesville, Virginia; 13 - 14 September. Then: Grundy, Virginia; 4 - 5 October. What I didn't expect was the efficiency of the breakdown of the camp. I now want to take part in and watch the arrival and assembly. For those who want to volunteer, information is available at the RAM website. Note that you should register early as registration can close; it closed a month before the clinic in Wise.
Another thing I didn't realize: the State Fairgrounds at the center of Oklahoma City, The Seattle Center in, of course, Seattle, and the Manhattan Convention Center in New York City now qualify as "remote." New York City! Clinics will be held at those locations in August, October, and November respectively. What does this say about health care in the United States? I am not really sure other than something is amiss. Today's (Friday, 17 July) WashPost Metro section has an article describing Gov. Terry Mc's visit to a "free rural health clinic" in Wise County, SW VA. (I can't link to the article because I don't have an online WashPost subscription.)
Here's the deal:
-- RAM -- Remote Area Medical -- recruits volunteer medical personnel to hold clinics in underserved areas of the US.
http://www.ramusa.org/
Of the 13 RAM clinics this year, THREE are in Virginia and TWO others are in NE TN, adjacent to SW VA.
https://bluevirginia.us/new...
-- People start lining up 2-3 days in advance, sleeping in their cars and trucks, to get medical, dental, and optical care. For most of these folks, this is the ONLY medical care they will get ALL YEAR.
-- The vast majority of these people have jobs -- they WORK.
-- Here are videos from previous RAM clinics in Wise County
http://www.youtube.com/watch?v...
http://www.youtube.com/watch?v...
http://www.youtube.com/watch?v...
http://www.youtube.com/watch?v...
Oh, and did I mention: WE DON'T NEED THAT DAMN MEDICAID EXPANSION!!!!!!!!!!!!!!!!!!!!!