 Cross-posted at Daily Kos
"Don't you see that the whole aim of Newspeak is to narrow the range of thought? In the end we shall make thoughtcrime literally impossible, because there will be no words in which to express it." -- George Orwell, 1984
You know a political movement is desperate to maintain control of the debate when it starts banning language itself. And so my jaw dropped when I saw the following in the Virginian-Pilot:
State Del. Chris Stolle, R-Virginia Beach, who insisted on changing the "sea level rise" study in the General Assembly to one on "recurrent flooding," said he wants to get political speech out of the mix altogether.

He said "sea level rise" is a "left-wing term" that conjures up animosities on the right. So why bring it into the equation?

"What people care about is the floodwater coming through their door," Stolle said. "Let's focus on that. Let's study that. So that's what I wanted us to call it."
Wow. Just wow. Since when did "sea level rise" become a "left-wing term"?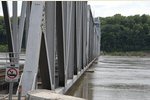 So, because Virginia is a Republican-run state, we don't have to worry about climate change and all its impacts, right?
Um, no, that's not how it works. As a matter of fact, as PBS's Need to Know program shows in a new video, Norfolk is directly in the cross-hairs of climate change. Per Mother Jones:
The city of Norfolk, Va., is getting an early look at what sea-level rise means for a big coastal community. The city is experiencing sea-level rise earlier than most because not only are the seas around the city going up, but much of the land beneath Norfolk is going down.
PBS talks to Mayor Paul Fraim and: "In what may be a first for an American mayor, Fraim tells Need to Know that if sea-level rise continues, some parts of his city may have to be abandoned to the rising tide." Youch.
Reality's knocking on our door, folks. We can raise our denial to the point of subpoenaing and harassing climate scientists -- but it won't stop the temperature, or the oceans, from rising. It's time to accept and face the reality of global warming and tackle the problem through activism, policy and action.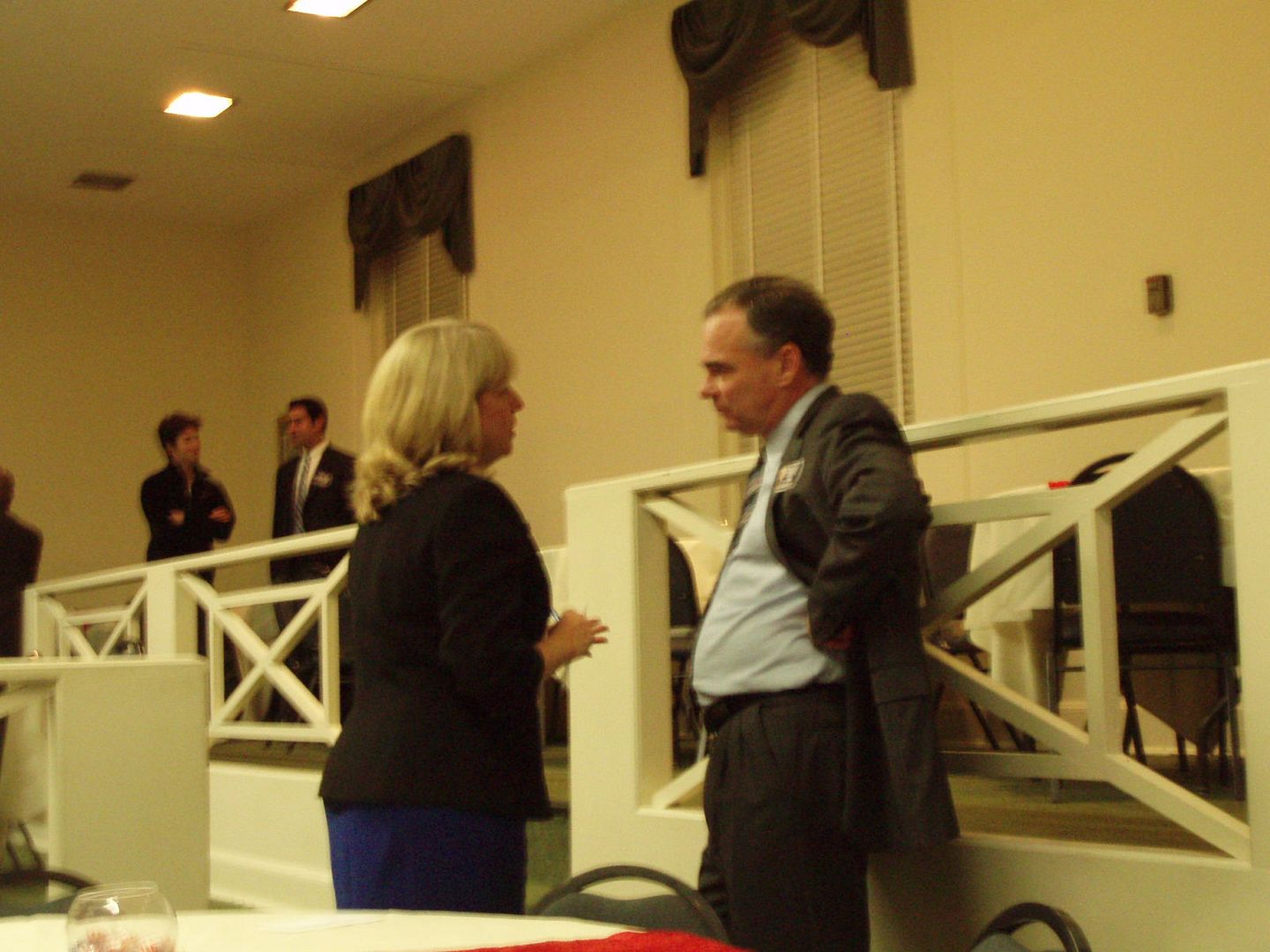 What a Democratic majority means to Governor Kaine is balance. Not to give short shrift to the House and local races, he believes that races like Ralph Northam's are essential to maintain sane government in Virginia. That's why he has made some 50 appearances on behalf of Virginia Democrats recently.
"Holding on to the Senate majority is the thing we've got to go after, hook, line, and sinker, tooth and nail, every minute, every hour , blood sweat and tears between now and next Tuesday." - Governor Tim Kaine
The former Governor offered some thoughts last evening at an event for Senator Northam (D-6th) about what we can do that will really matter and why what we do matters maybe this year more than most. From his perspective, right now in Richmond, the Democratic Senate is the balance. With a Republican Governor, Lieutenant Governor, and an Attorney General who is fighting against science, arguing climate change does not exist, fighting to turn back the clock as far as protecting employees on the grounds of their sexual orientation, that balance is essential.

To put it mildly, Alexander Palmer -- Vice Chair of the Norfolk City Democratic Committee and Vice President of the Norfolk Area Young Democrats --
is not pleased with Glenn Nye
these days. From
Palmer's Facebook page
(with his permission):
Glenn Nye's campaign rep came to the NCDC last night to basically tell us Nye was voting against health care bill........you should have heard the grumbles from the committee, he's alienating his base, hope these moderates he's mysteriously courting come out and canvass for him, because the activist base is staying home.

...maybe Nye could stop worrying more about his re-election and worry more about the people who elected him to serve them. I'm uninsured, health care is currently out of my reach. In my opinion, he's part of the problem we have in Washington, he took $125,000 from the health insurance industry, the Chamber of Commerce makes commercials on his behalf, honestly when it counts the most, he votes the same way Riegel or Drake would vote, its disappointing.

Then his campaign rep is going to turn around and ask people to collect petitions for Nye, practically everybody said that if Nye voted their way on health care they would collect some for him, if not, they could forget it. This is only the start of what his campaign can expects from us good Democrats come election time.
Palmer then receives a message from Jonas Courey of the Nye campaign, asking, "Should I thank you in advance for helping elect Scott (Cuccinelli) Rigell? :):)" Palmer replies:
hey, I'm just being honest with you Jonas, I'm in politics for the issues, not the people, if Nye is more interested in re-election than he is principle, than I'd rather have somebody else. I'm tired of career politicians putting their re-election ahead of personal conviction, its the problem with Washington. At least with Rigell we know what we're getting, its unfortunate about Nye, I thought finally we'd get an ally from the 2nd....that wasn't that case.
Yeah, it's getting rough down in the 2nd CD for freshman Rep. Nye. But the thing is, all Glenn Nye has to do in order to turn that situation around is to vote YES on health care reform legislation. If he does, as I've said previously, I will do what I can for his reelection. If he doesn't, well then, let's just say I've got a lot better things to do with my time (dust the house, wash the car, take a nap, etc.).
UPDATE: Palmer adds, "I hope Nye has the courage to do what is right and vote in favor of this legislation, it would mean a lot to me, and thousands of uninsured in the 2nd. Do what's right Glenn, vote for us!" I agree 100%.
UPDATE #2: This sparked a great deal of discussion both on Facebook and here. Later in the discussion, Randy Klear wrote:

He said no such thing, Alex. He said that he couldn't say how Nye was voting at this moment. In November Nye said he voted against the House bill because of insufficient cost controls. Personally I suspect the CBO report today, plus the fact that he'd be committing political suicide with another no vote, will be enough to push him into the yes column.

[...]

He's a newly hired field director, and he's not likely to be in the loop when Nye's own chief of staff and campaign manager probably haven't been told yet. You are willfully misinterpreting his remarks.
And Diane Kaufman wrote:
I agree with Randy. I invited Jonas to introduce himself to the committee and speak for about 1 minute and then next he was vilified. I understand that everyone is passionate on this issue, and I am glad that they are vocal, but he is NOT in the loop of how the Congressman may or may not be voting. And, Jonas did NOT come to the committee to tell us how Nye would be voting in the health care bill. What I want to know is what's new? We are all waiting for the vote on the health care bill. That will be news. Letting our congressman know how we feel is not news. We have been doing that for months. On the other hand, Cooch and his decisions are harmful AND news.
And the discussion proceeded from there. Check it all out
here
, as obviously there are several sides to this story. However, in the end, what I care about - the ONLY thing I care about - is that Glenn Nye votes the right way on health care, and also on other issues important to me like clean energy/climate change and many others. With regard to health care, I guess we'll find out in less than 72 hours, and then we'll go from there.