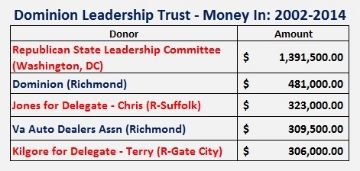 Yesterday I discussed the few members of our General Assembly who haven't been directly touched by Dominion. One such fellow is Delegate Bloxom (R-Eastern Shore/Norfolk). However he has received funds from a PAC that Dominion has generously supported for years: Dominion Leadership Trust. Dominion is this PAC's second largest contributor.
Over the years, Dominion Leadership Trust, just one of many PACs Dominion Resources supports, has "invested" $10,973,016 influencing Virginia government. Though Dominion Resources' portion of that amount accounts for only about 4.4% of the total, that places the corporation second among those with clout in a PAC of like-minded members. And looking at the top donors, it is quite a gallery of influence. Dominion Resources leverages its direct donor influence by having a hand setting the agenda across the political spectrum in any number of PACs.
There is another gent on yesterday's list who has received funds from Dominion Leadership Trust: that would be Delegate Farrell (R-56th). Comparing the amounts the two received is a lesson in influence. Bloxom received $66,874 and Farrell $2,500. While Dominion Resources can only be attributed 4.4% of those amounts ($2980 and $111 respectively) when they respond (even if they did the math) to Dominion Leadership Trust, Dominion Resources's objectives get the attention corresponding to the greater amount.
The single contribution to Farrell did not occur until after he was elected to the House of Delegates and after his first two full sessions. Of the contributions to Bloxom, on the other hand, about $60,000 was reported during his campaign for a seat formerly held by Democrat Lynnwood Lewis and the remainder in the month after Bloxom's election. Dominion Leadership Trust accounted for over 43% of the funds "raised" by Bloxom. To whom is Delegate Bloxom beholden? It isn't the grassroots.
And, yes, some of the PACs Dominion Resources supports are Democratic. And if Dominion Resources helps set the agenda at Dominion Leadership Trust, it follows that the same is true wherever it ranks among a PAC's top donors. That is something to look at too.
In a previous post I suggested that it might be interesting to see if there were trends in Dominion's contributions over the years based upon party influence or the perception of party hegemony in Virginia. This graph seems to indicate that, with the exception of the year Mark Warner rose to the Governorship and Kaine's second year as Governor, Dominion has been betting red with a significant hedge.
Early returns for 2014 could be very telling. If Dominion is a leading indicator, Democrats are looking at some frustrating and disappointing years ahead.