by Alfonso Nevarez
Right-wing Republican Del. Dave LaRock is being outworked and outsmarted by his Democratic opponent, Mavis Taintor. In a tough district that is traditionally scarlet red, the Taintor campaign is steadily moving HD33 towards toss-up status by raising serious money and strategically organizing the growing communities of young families in this rural district. Help them pull off this huge upset and take down LaRock!
The Democrat
Mavis is a straight-shooter who has made a habit of overcoming long odds. At a time when women rarely moved up the ranks in the financial services sector, she broke down barriers and eventually became the first woman to run a billion dollar capital management firm. Then, she gave it all up and left New York to become a horse farmer in western Loudoun, successfully breeding and raising horses that compete in equestrian sports.
Unfortunately, Mavis encountered a challenge in rural Virginia that even she couldn't overcome: the stunning lack of mental health services in rural Virginia. When her son's struggles with addiction and mental illness required institutional intervention, there were few options, and none that would allow him to be near his family. Eventually, his condition led to his untimely death. Devastated, but more determined than ever, Mavis turned her life towards public service, first by joining the Board of Directors of opioid treatment operator Phoenix House Mid-Atlantic, and now running for the House of Delegates to increase the number and quality of mental health facilities in Virginia, and to make sure families have access to the services they need to live full, healthy lives.
The Republican
In May, Lowell published an analysis of HD33 that included a long, and yet far from exhaustive, list of horrible things Dave LaRock has done and said as a Virginia Delegate. Let's review:
"Among the absolute worst – most extreme, bigoted, etc. – Virginia delegates is Del. Dave LaRock (R-HD33). To get an idea of why I say LaRock is among the absolute worst, see Faaaar-Right, Rabidly Anti-LGBTQ Del. Dave LaRock (R-HD33) Promotes Dangerous Petition Claiming Transgender Equality Would "Endanger Our Children!"; Virginia Del. Dave LaRock (Faaaar-Right R) Says Being Transgender a "Social Contagion," Like Anorexia; Gets Pounded on His Facebook Page,  Rabidly Anti-LGBT Virginia Delegate Dave LaRock Absurdly Claims Loudoun County School Board "Lurches Left" Because It Opposes Discrimination, Supports Public Schools, Dave LaRock Spews Anti-LGBTQ Hate Straight From the House of Delegates and Talking to My Delegate: Dave LaRock (in which LaRock talked about how "beautiful" discredited/harmful gay "conversion therapy" is; refused to call Danica Roem 'she'; etc.)."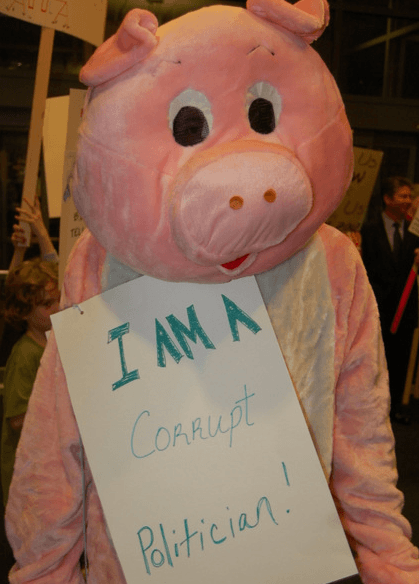 Unfortunately, there's a lot more where that came from. Like the time LaRock criticized the LCPS anti-discrimination policy by telling the Loudoun Times Mirror that it "'promotes homosexuality and gender confusion to people of all ages' and could be 'used to promote, affirm and recruit young school-aged children to those lifestyles.'"
Or how about the time LaRock opposed abortion in cases for women whose mental health was in jeopardy because "pregnancy makes them a little crazy at times," and added, "It certainly did my wife." Just in case anyone was confused about what kind of what kind of pig he is.
The District and Campaigns
As stated above, and as emphasized in that analysis from May, this is a tough district for Democrats. LaRock won in 2017 by more than 9 percent, and Comstock performed even better. No Democrat – Federal, statewide, or otherwise – has managed to gain a larger share of the vote than their Republican opponent across the entirety of the district. On paper, there's little reason for most analysts to see this district as anything more than a Lean R, at best.
So how could this possibly be inching towards a toss up? Here are five reasons why the road to a Democratic majority in the House could be going through HD33:
1) Mavis Taintor is running a stellar campaign. VPAP indicated that she had raised $117,000 as of June 30th, and according to her campaign manager, Dave Wagner, she has now raised more than $150,000 cash, and will soon eclipse the $194,000 the Democratic nominee raised in all of 2017. Overall, the campaign expects to raise more than $400,000. Just as important, they have made it a point to organize towns west of Loudoun, like Berryville and Winchester, that are trending more and more Democratic as they grow by attracting young families that want the kind of services that Dave LaRock has made a career of denying his constituents. Mavis is reaching those young families and pledging to fight to improve their lives with better healthcare, better education, and better jobs, including a $15 per hour minimum wage.
2) LaRock is running another lazy campaign. He's only raised $40k as of June 30th, and wound up with just $15k in the bank after expenses. What's even more notable is that he has raised just $12k between March and July. Meanwhile, his presence has actually been diminishing in the community as he tries to duck the blow-back from his support for widening Route 15, a plan that is very unpopular in the northwestern portion of Loudoun that is almost entirely within HD33. Even LaRock's kindred-bigot of a running mate, Geary Higgins, voted against the widening due to the significant opposition. The bottom line is that LaRock's campaign is getting weaker just as we're getting into the thick of the general election.
3) There was a big gap between Barbara Comstock and Corey Stewart last year. A moderate Republican could probably dominate this district if they could survive a primary, but many independents and Republicans were turned off by Stewart's hateful rhetoric and actions. When the Taintor campaign uses their significant resources to expose Dave LaRock, we can expect a lot of those independents and moderate Republicans to vote for Mavis' no-nonsense commitment to improve the communities in her district.
4) There's a lot of overlap between HD33 and SD13, where Team John Bell is expected to be one of the most well-funded Senate campaigns in Virginia history. The Bell GOTV campaign is going to turn out Democrats in every nook and cranny of rural Loudoun.
5) The Catoctin District, which is almost entirely in HD33, has been doing a lot of great organizing over the past 18 months. Led by Chair Ayala Sherbow and Vice Chair Kristen Swanson, activism in the district spiked tremendously in 2018. It was astonishing to see so many road signs for Kaine/Wexton peppered throughout western Loudoun, and canvases in Lovettsville and Lucketts were keeping pace with a lot of the staging locations in more densely populated parts of the county. What used to be one of the weakest districts is becoming one of the strongest.
Go See For Yourself
There are two events coming up where you can meet Mavis and see what they're doing for yourself. The first is on August 4th in Lovettsville. It's summertime, so make a day of it and visit one or two of the world-class wineries in the area. The second is on August 11th in Leesburg, and will feature House Minority Leader Eileen Filler-Corn.
This year is starting to look like the year when we give the remaining leaders of the hate coalition their pink slips. Get in on the fun early and support Mavis Taintor for Delegate.