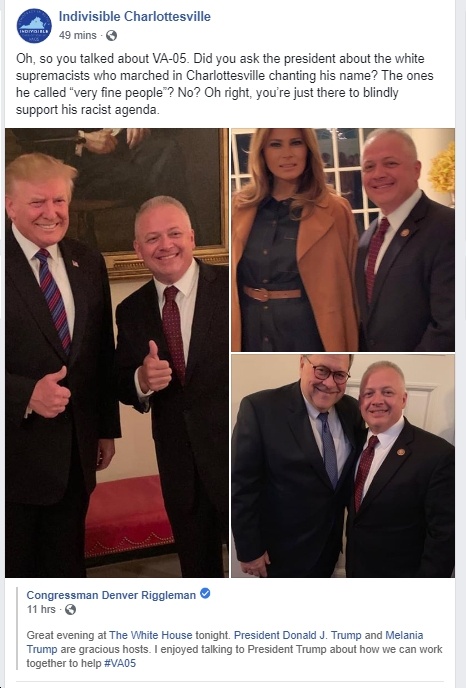 I continue to stay focused on the November 5 elections (58 days from now) Virginia elections for the entire Virginia General Assembly and for many important local offices (e.g., control of the Prince William County and Loudoun County Boards of Supervisors; chair of the Prince William County School Board – go Babur Lateef! – and many more).
However, sometimes my focus wavers, such as when I see Rep. Denver Riggleman (R-VA05) hangin' out and having a "great evening" with the corrupt, authoritarian, incompetent, bigoted Orange Pustulence currently befouling the White House. As Indivisible Charlottesville writes:
Oh, so you talked about VA-05. Did you ask the president about the white supremacists who marched in Charlottesville chanting his name? The ones he called "very fine people"? No? Oh right, you're just there to blindly support his racist agenda.
That sums it up pretty well. Of course, it's not surprising that a total right-wingnut such as Riggleman – who likes to pretend that he's got some sort of independent, "libertarian" or even "moderate" streak, but actually was hand picked by 19 hard-right Republican Party insiders and dutifully votes 93% of the time with Trump – would be totally up for par-tay-ing with the Trumps, with Trump's sycophantic and utterly pathetic Attorney General, etc. Riggleman is, after all, the man who always puts "Party Before People, Fealty [to Trump] Above All." He's also the guy who goes on Trumpster radio all the time to rant and rave about some of his obsessions – "The Squad," AOC, anti-Semitism (but only on the left, never on the right or with Trump himself), white privilege, etc. Other than that, he basically spews far-right talking point after far-right talking point, declares that he does "not believe healthcare is a basic human right," revels in the backing of theocratic extremist Jerry Falwell, Jr., etc. By the way, just because he presided over a same-sex wedding, note that Riggleman "vote[d] against both the Equality Act and a resolution rejecting President Donald Trump's ban against transgender soldiers," so his "record doesn't quite scream LGBTQ ally." Typical Riggleman.
Fortunately, Democrats already have three potentially strong challengers to Riggleman: Dr. Cameron Webb (D). Also see the April 2 announcement from Democrat RD Huffstetler (from April 2) and a March 22 tweet about Democrat Kim Daugherty announcing her exploratory committee. Of course, this isn't an easy district for Democrats to win, as it was gerrymandered for Republicans' protection. Still, it's worth giving Riggleman a run for his money, at least try to make him defend his pathetic record. Anyway, just needed to get that off my chest. Now, back to regularly scheduled programming – the 2019 Virginia elections on November 5.
P.S. Also note that there's another Democrat running in VA05 – see John Lesinski for Congress.