Advertisement

Just when you start thinking there's no way the Virginia GOP can become any more of a dumpster fire, cluster-you-know-what, etc. check this out! That's right, the Virginia Republicans sent their crack "Survey Team" to check out the parking lot facilities at Liberty University, where they had hoped to hold their nominating convention for their 2021 statewide candidates on May 8, and…
"…the team concluded that a statewide convention of delegates on a single off-campus LU property is not feasible. The convergence of as many as 4,000 automobiles and 70 buses at a single venue makes that impossible."

Maybe they should have thought about this BEFORE they selected this option? Just a thought. So now what? VA GOP Chair Rich Anderson writes:
"I will call [a State Central Committee – SCC] meeting that will convene next week to discuss proposals that have been put forth for a convention configuration that employs satellite locations across Virginia."
Satellites, eh? Like maybe shoot this whole thing into outer space? Oh, different kind of "satellites?" LOL  As for how Anderson feels at this point, "fatigued" seems like a very mild word for it. But from a Democratic perspective, the longer Republicans' comically absurd dysfunction continues, the better. Hell, let it continue through 2021, 2022 and beyond, while Democrats focus on governing the state (and the country)!
P.S. For some background on Rich Anderson and this situation in general, see VA GOP Chair Launches Dog-Whistle-Style Attacks Against Prince William County Board Member Kenny Boddye, Vows To "send him packing to Los Angeles"; Video: VA GOP Chair Says "[party] staff deserves to have a world-class facility, not the *literal ghetto* they now live and work and serve in."; Video: As VA GOP Argues Endlessly Over Its Method of Nomination, State Central Committee Member Complains About "the VICIOUS incivility and attacks that have been coming from one side"; etc.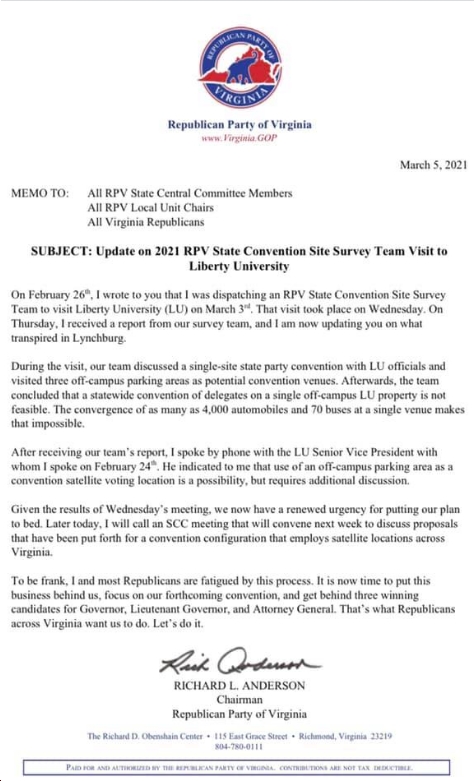 There's no paywall on Blue Virginia, and we definitely want to keep it that way! If you want to help support our work, you can donate here - thanks!
Also, you can
sign up for our weekly email list here
.