The following is from Rachel Levy, regarding last night's Hanover County School Board meeting. As the Richmond Times-Dispatch reports:
Tuesday night's Hanover County School Board meeting regarding a proposed transgender policy quickly became tense as the third speaker was ushered out by a deputy while addressing the board.
Resident Wendy Kersey was talking about the local organization Hanover Patriots, which had a strong presence at the meeting and generally supports the policy. She was interrupted by School Board Chair John Axselle III, who asked her to stay on topic. The two spoke over each other, and Kersey was ushered away by a deputy as she spoke about Alliance Defending Freedom, the conservative legal advocacy organization that largely wrote the proposed transgender policy.
For more background on the (right-wing-dominated) Hanover County School Board, see Swastika-Style Logo on (Deep-"Red") Hanover County, VA Schools T-Shirt; Youngkin Sign in Classroom. WTF Is Going On?; Day After Swastika-Shaped-Logo Controversy, Hanover School Board to Consider Policy Requiring Extensive Background Check for a Transgender Student to Use the Bathroom; Right-Wing-Dominated Hanover County School Board Bans Student Walkouts, Nearly Bans Book on Police Killings of Black People (Because, Supposedly, "That Only Happens in the Inner Cities"); Process for Appointing New Hanover School Board Member Violated US Constitution By Requiring That They Be a Conservative Christian, Commit to Breaking Virginia Law and Engaging in Discrimination; Hanover County High School Senior Ethan Lynne Urges: "Please pay attention to the far-right takeover happening in my own county"; Hard-Right Virginia Delegate Claims Hanover County, Which He Represents, "Caved to the Pressure of Anarchists" in Voting to Rename Confederate Schools; His Republican Predecessor Rips Him; etc.
With that, here's Rachel Levy's account of what happened:
Tonight, I attended the Hanover County, VA School Board public hearing regarding their proposed policy to establish a transgender student registry & bathroom use review panels.
Below is the statement I gave.
I must also, however, describe two incidents (to the best of my recollection) involving Hanover School Board Chair John Axselle.
1. One of the first Hanover citizen speakers, Wendy Kersey, was interrupted one minute into her 3-minute speech by the School Board Chair John Axselle to disallow her from continuing to speak. He talked over her. He said she wasn't addressing the policy and didn't ask if she would. She continued her remarks. He insisted, several times, that she stop, and then he ordered a Sheriff's Deputy (who, frankly, seemed reluctant) to escort her out. By that time, she had come to part of her remarks that addressed the policy.
Prior and subsequent speakers also addressed other topics and some didn't mention the policy at all, but with no interruption from Axselle or consequence.
This was flagrant violation of this citizen's rights and an abuse of Axselle's power.
2. Another alarming incident at this meeting occurred when Hanover School Board Chair John Axselle intervened to ESCALATE a conflict between two citizens.
One citizen in the audience said something negative (something like, "such a sad man") about the citizen who had just spoken beause he had made some horribly trans-phobic and sexually graphic statements. The citizen who had spoken then asked the citizen in the audience to "step outside."
Axselle then said something to the effect of (and he said it twice), "Want me to identify him for you?" or "Let's identify him."
This was dangerous and inciting of violence. I hope Axselle loses his seat over these and other incidents. His abuse of power is unacceptable and not befitting of a School Board member, let alone the Chair.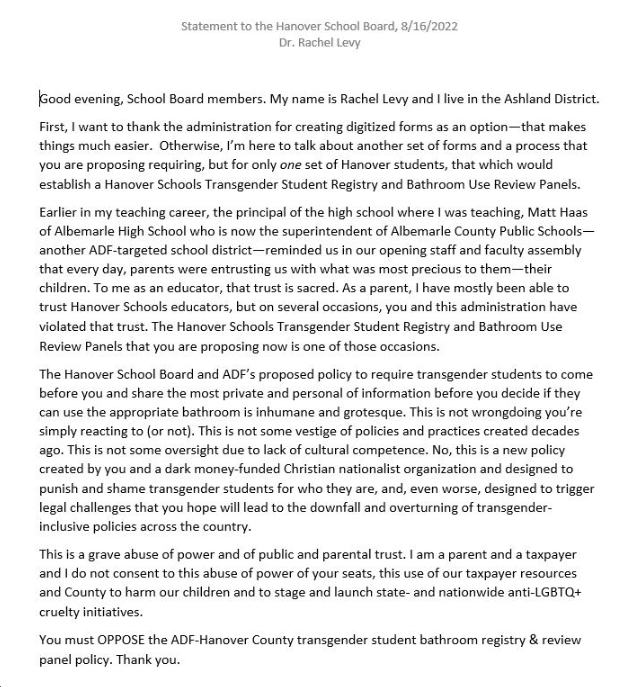 Here is the full statement of @Wendykersey who was interrupted by Hanover SB Chair Axselle and then escorted out, upon his orders, by a Hanover Sheriff's Deputy.

FWIW, the Deputy seemed quite hesitant.https://t.co/ZVDgI8blsN

— Rachel for Delegate (@RachelAnneLevy) August 17, 2022