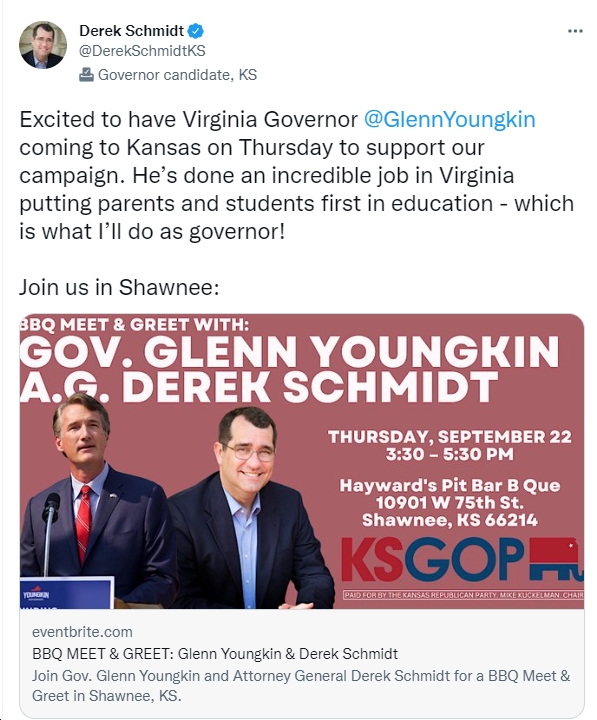 As you know, Glenn Youngkin's been busy the past couple months campaigning across the country for a variety of far-right/MAGA Republicans, including elections conspiracy theorist/anti-abortion-extremist/total nutjob Kari Lake in Arizona;  Tudor Dixon in Michigan (another anti-abortion extremist and election conspiracy theorist, among other things), Paul LePage in Maine (said "the enemy right now…are people of color or people of Hispanic origin" and that no "sane people would want to allow transgender in our primary schools"; called a state legislator a "little son of a bitch, c*cks*cker"; etc.), Heidi Ganahl in Colorado (among other things, "refuses to denounce John Eastman, former CU professor and author of the fraudulent legal memo used to justify the Jan 6 plot, who has been subpoenaed by the Jan. 6 committee and by a grand jury investigating election fraud in Georgia"), Joe Lombardo in Nevada (he's 100% anti-abortion, anti-"Red Flag Laws," pro-"Don't-Say-Gay" laws, anti-immigrant…), etc, etc.
So now, Youngkin's going to be adding Kansas Republican gubernatorial candidate Derek Schmidt to his list of Trump/MAGA Republicans he's campaigned for. How bad is this guy? Here are some "highlights":
Schmidt recently stated at a rally that Kansas should be "more like what Ron DeSantis has in Florida." (Note that Youngkin, during his campaign last year, touted DeSantis as a model governor who he'd strive to emulate in Virginia if he got elected)
As AG of Kansas, Schmidt "has opposed expansion of LGBT rights in Kansas, including by defending the state's laws against same-sex marriages, opposed efforts to legalize or decriminalize marijuana in Kansas, and challenged public health orders issued by Governor Laura Kelly to address the COVID-19 pandemic."
Also as AG, Schmidt "challenged Obama-era regulations on the oil and gas industry, including a regulation controlling emissions of the greenhouse gas methane;[20] in 2015, Schmidt also joined Kansas in a suit challenging the Obama administration's Clean Power Plan."
"In September 2012, while leading the three-person State Objections Board, and supported by its other members, Kansas Secretary of State Jeff Colyer and Schmidt, Kobach requested additional evidence that Obama was actually born in Hawaii."
Schmidt was endorsed by the NRA, which gave him an "A+" rating, arguing that  "Kansans can trust Derek Schmidt to protect their constitutional right to keep and bear arms."
Schmidt is virulently anti-environment, including protection of wetlands and constantly fighting the EPA's efforts to protect our environment.
Schmidt proudly touted his endorsement by Donald Trump, who claimed that Schmidt "is strong on Crime, the Borders, and our always under siege Second Amendment."
Schmidt has railed against what he calls the "abortion industry."
Schmidt "brought Kansas into an unsuccessful lawsuit after the 2020 presidential election seeking to overturn the results in battleground states as Trump and other Republicans spread baseless claims of widespread voter fraud."
So yeah, this guy's a complete nightmare. And supposed "moderate"/"sweater-vest"-wearing Glenn Youngkin is campaigning for him. 'Nuff said.