Last year, as Glenn Youngkin ran what was – by almost any metric – a gubernatorial campaign right out of the racism-stoking, Lee Atwater-style "Southern Strategy" playbook – the media wrote article after article regurgitating Youngkin's b.s. press releases, whitewashing him as some sort of "moderate"/"6 foot 5 mystery date"/"sweater-vest"-wearing "nice guy," blah blah blah. In fact, Youngkin is an extremist and always has been, with his closest role models being his BFF Ted Cruz, Florida's fascist governor Ron DeSantis, Texas' fascist governor Greg Abbott, and of course criminal/racist/traitor/insurrectionist Donald Trump, about whom Youngkin said, "President Trump represents SO MUCH of why I'm running!"  Plus, of course, if a journalist had, let's just say, been paying even the slightest bit of attention to what Youngkin was actually saying during his GOP primary campaign in the winter/spring of 2021, they would have know that he was anything but a "moderate" or "mystery date." But apparently, they either weren't paying attention or were determined to whitewash him regardless.
Anyway, just in case you were hoping that things were improving with our political media, I'm sorry to say that they don't appear to be, at least when it comes to Youngkin. See below for just a few recent examples, including: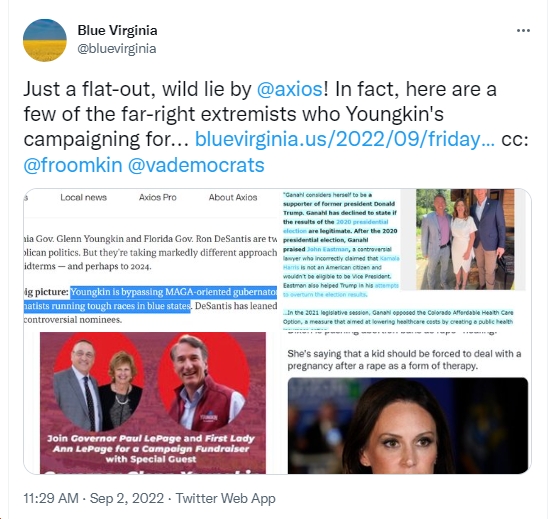 The WaPo continuing to use vague, cowardly, weaselly words like "racial obtuseness" instead of just saying "RACIST." Compare and contrast the WaPo's cowardice with how REAL journalists at the Cavalier Daily describe Youngkin: "utterly incompetent leader"; "spreading outright falsehoods"; "poor decision-making"; "fearmongering"; failure to "properly vet his nominees"; "We deserve someone who respects student self-governance, embraces the University's commitment to diversity and at the very least, leaves their razor blades for shaving."; etc.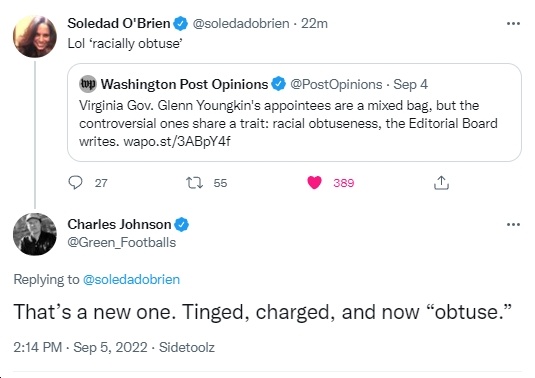 As NY Times opinion writer Jamelle Bouie points out, the media last year "ran one of the most racially inflammatory campaigns in modern Virginia history," yet was  (and still is) "covered as some sort of quirky nice guy."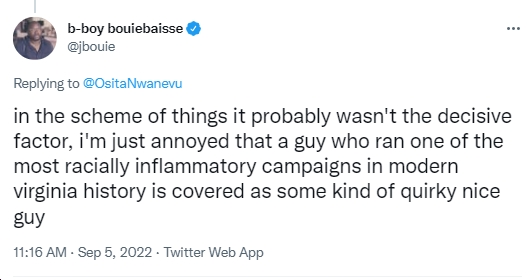 And now we have THIS crap from "The Hill," framing its story on Glenn Youngkin going to campaign for far-right-extremist, racist, etc. Maine gubernatorial candidate Paul LePage as follows: 1) Youngkin is a "rising GOP star" (note the attention to the horse race, political intrigue, etc, with no evidence even presented that it's accurate); 2) LePage as a "controversial former governor" (instead of immediately and clearly letting readers know that LePage is a virulent racist and Trumpist who uses violent rhetoric, denies climate science, etc.); 3) using the same weasel words ("racially charged") the WaPo and other newspapers like to use instead of just RACIST, which obviously is what LePage actually is (and who even knows what "racially charged" is supposed to mean.)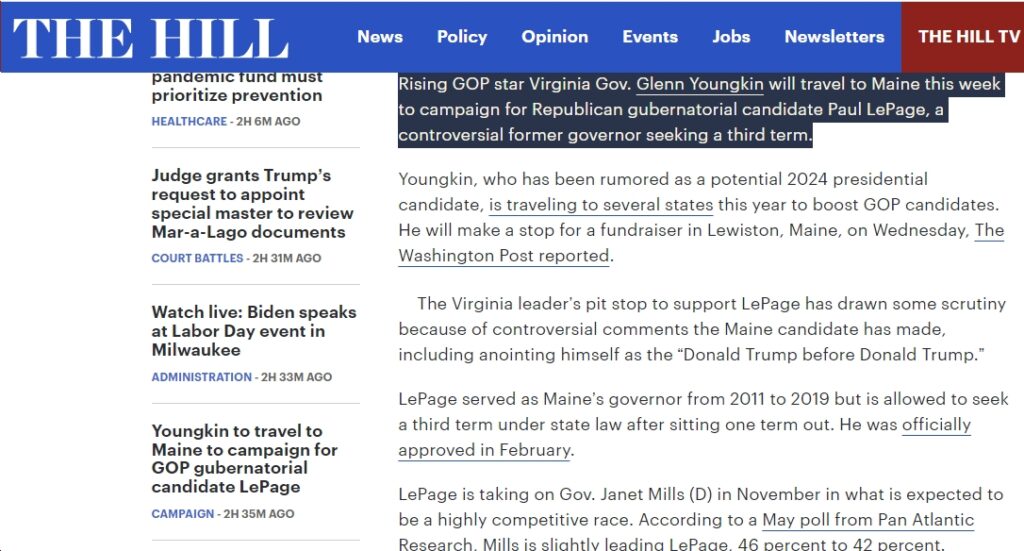 This crap by Karen Tumulty of the WaPo, entitled "

Why Glenn Youngkin — or someone like him — must run in 2024."

This crap by Molly Ball of Time Magazine, which is about as close to a completely whitewash of Youngkin as you can possibly get, while still purporting to be a real journalist.
This crap by Greg Schneider of the WaPo, which Kellen Squire accurate described as a great example of "love letters to Glenn Youngkin." As Squire pointed out, in all these articles there was: "Nary a word about [Youngkin's] LGBTQ panel appointee cyberbullying my LGBTQ teenager. Or about his teacher "snitch line" (except to sneer bizarrely that "Youngkin's 'tip line' has not led to a new era of teacher McCarthyism"). Absent was any mention of him attempting to do as Donald Trump did and eviscerate competence in Virginia's government, nor how his administration has people in it who believe that LGBTQ kids don't deserve school lunch, believe global warming is a giant hoax, someone willing to fly across the country, arm themselves with a box cutter, and march onto the UVA campus looking to deface student rooms, someone who refers to the non-existent "Northern invasion of the South" in the US Civil War as being "just like we see Russia invading Ukraine"– and on, and on, and on."
I'm sure I missed a bunch of media whitewashing and flat-out/wild lying about Youngkin, but this gives you a good sampling of what we're dealing with. Can democracy survive with a pathetic, groveling media like this, as opposed to the fierce, truth-seeking media that we NEED TO HAVE? I'm not optimistic, personally, especially when combined with the decline/demise of local news media and the rise of far-right/"Baby Breitbart" sites masquerading as regular local "news" (with innocuous names like the "Examiner," "Star," "Monitor," etc.). How about you?