The
latest Congressional scorecard from the League of Conservation Voters
flunks every single Virginia Republican, including House members like Scott Rigell, Rob Wittman and Frank Wolf who'll be trying to sell themselves as moderate in November. Committed opponents of clean air & water, public health, and wildlife like Eric Cantor, Randy Forbes, Bob Goodlatte, Morgan Griffith and Robert Hurt all scored in the teens. Meanwhile, Virginia House Democrats Gerry Connolly, Jim Moran and Bobby Scott all scored 100%. On the Senate side, both Sen. Mark Warner and Jim Webb scored 100%, though given that both support oil drilling off Virginia's shores and Webb has
opposed clean air regulations
, neither is perfect on conservation.
What drew the LCV's ire? Every single Republican voted for the House Republican budget resolution to gut the Clean Air Act & Clean Water Act, to protect billions in tax giveaways for oil corporations that banked $137 billion in profits in 2011, and to weaken offshore drilling safety rules even as they pushed to bring oil drilling to the Virginia coast: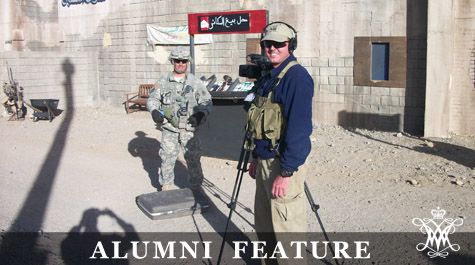 In 2005, the day he set up his elementary school classroom, Philip Forgit was called up for active duty. He spent the next year in Iraq. Winner of a National Education Association grant, he used that money and his own to fund his film:
Lions of Babylon; A Soldier's Story
.
What this film seems to be trying to answer is whether Iraq and America, Iraqis and Americans, are better off for the war. After an unsuccessful run for Congress as the Democratic candidate against Rob Wittman in Virginia's First District, Forgit turned to this project. Returning to Iraq during late 2009 and 2010 he recorded the efforts of U.S. and Iraqi troops to keep the peace in Saab al Bor on the outskirts of Baghdad. It focuses on a single troop in a single village but it is a microcosm of something much larger.
Forgit was an intelligence specialist in the navy reserve for 10 years. As such, in his assignment in Iraq he was immersed in the complexities of religion, tribal influences, trade and economic relationships. His perspective is shaped by his personal and professional relationships with Iraqis, both military and civilian. From that perspective, he believes most Americans do not fully comprehend the effect the war has had on themselves or the Iraqis. This is among his reasons for telling this story. Apparently someone forgot to tell Rob Wittman that it isn't ok to use taxpayer dollars to prepare, publish and mail his political campaign materials. The "franking privilege" allow members of Congress to send "official mail," under their signature, without postage - although this sort of mail is not free as it is paid for by annual tax-funded appropriations. As Rob is no doubt aware, political campaign mailers do not fall under what is allowable as "official mail."  
Additionally, congressmen are prohibited (Section 3210 (a)(6)(A), Title 39 U.S.C.) from sending out any mass mailings during the 90-days preceding the date of an election - be it primary or general. A mass mailing is
defined
as "an unsolicited mailing of 500 or more pieces of substantially identical content - whether mailed singly or in bulk - over the course of a legislative year."  
Since the 90-day blackout period begun, Rob has not shied away from using taxpayer funds to send out what are clearly campaign mailers. Kandy Hilliard, Chair of the Stafford Democratic Committee, issued a press release this morning that accused him of misusing taxpayer funds for campaign expenses and called for a formal investigation to be launched. Krystal Ball is dead wrong on the issue at the center of American strategic security interests. Her naïve, casual, pragmatic responses to complex questions and nervous laughter when she was being taken to task by her interviewer today made clear that she is neither ready for prime time nor Congress.
None of this makes Rob Wittman more qualified for office, mind you. But if Krystal Ball believes what she expressed in her discussion on the Tony Macrini show this morning, there is no compelling reason for progressives to think more than to vote for her on election day. She doesn't even list the war as an issue on her website. Shoe leather and money are better directed to a Tom Perriello who can think on his own and explain to his constituency why his positions are in their and the nation's interests.
Macrini went to the conflict in Southwest Asia in short order reasoning that people in Hampton Roads are more likely to be somehow directly affected than people who live in Idaho or elsewhere. He turned the discussion over to Ball after wondering aloud that, here we are with 4,500 Americans dead and $1 trillion spent, if the wars were a good idea. Most of the discussion of that issue follows. This is cross-posted at
Leaving My Marc
.
I'd say that the Wittman campaign is feeling quite threatened these days by Krystal Ball's (D-VA-1st CD) candidacy that they felt that they needed to dismiss her as a candidate through an extremely sexist comment.
Great job by the Farm Team on calling them out!
Wittman for Congress makes sexist remarks about
female opponent, Krystal Ball

Recently, a spokesperson for Congressman Rob Wittman of the 1st District of Virginia made a controversial statement about his opponent, Krystal Ball. In referring to Mrs. Ball, the Wittman campaign described her as "cute" stating, "As cute as our opponent may think she is..."

Today, Susan Platt, a founding member of The Farm Team said, "It is regrettable that Rob Wittman's campaign feels it is acceptable to degrade the Democratic Nominee for Congress for the First Congressional, who happens to be a woman, in such a manner."

Platt continued, "Krystal is running a smart, issue-oriented campaign and should be treated with respect.  Not only is it disrespectful to Mrs. Ball, but to the many other women across Virginia who expect more from their elected officials.  We hold our leaders to a higher standard.  That's why we're supporting Krystal Ball for Congress."
This is cross-posted at
Leaving My Marc.
That's what constituents in the 1st District of Virginia are wondering. It's no wonder that his constituents have no idea who or where he is, since he has no legislative accomplishments to speak of and instead spends his time hobnobbing at GOP fundraisers and hanging out with his pal Eric Cantor (see Lap Dog article). Sen. Scott Brown's
coming to campaign
- actually, raise money - for Rep. Rob Wittman (R-1). The only problem is, if you check out
Brown's Facebook page
, the "tea partiers" are extremely pissed at him for his announced decision to vote for financial reform legislation. Here's a sampling, typos (e.g, "rhino" instead of "RINO," "you're" instead of "your", etc., etc.) included.
*"Dear Senator Brown, You are a deceitful man, a "rhino"... a snake in the grass..... you're kind will pay in November... ..l., _ ,.l.."
*"Senator Brown, you are a disgrace to the GOP. You are part of the problem. I hope the voters of Mass. vote your sorry butt out and replace you with a REAL fiscal conservative. You are part of the reason why the Tea Parties exist! Electing you was a HUGE mistake."
*"Scott, you are just another RINO. I supported your campaign and I now regret it. I wish I had my $ 100.00 donation back."
*"Scott you have let us down. 2012 is coming sooner than you think!!!"
*"You have lost my support."
For what it's worth, I strongly support Brown's decision to back President Obama's financial reform legislation. I strongly encourage him to also support comprehensive, clean energy and climate legislation. Thank you Scott Brown, and enjoy the 1st CD of Virginia! Ha.
This is cross-posted at
Leaving My Marc
.
Democrats helped Krystal Ball (D-Fredericksburg) shed the presumptive nominee label by selecting her to be the official democratic nominee from Virginia's 1st Congressional District at a convention this past Saturday.
Ball wasted little time in drawing a sharp contrast between her and Congressman Rob Wittman (R-Montross).

When we passed Social Security they threatened to repeal it, when we passed Medicare they threatened to repeal it and now, now that we have passed health care reform they are threatening to repeal it. Well I have one message for Eric Cantor and John Boehner and to Rob Wittman. Let me say this clearly. I don't care what your buddies in the health insurance lobby want we are not going backwards!
This is cross-posted at
Leaving My Marc
.
In a big announcement this morning, Starbucks has introduced two new beverage sizes to its U.S. stores: the Plenta and the Micra.
Hugh Mungis, Starbucks VP of Volume issued the following statement:

Whether customers are looking for a large or small size, the Plenta and the Micra satisfy all U.S. and Canada customers' needs for more and less coffee. Our size selection is now plentiful.
Republicans have responded by saying "
Hell No, You Can't
" and blasting this as a direct result of the recently signed health care reform (HCR) legislation.