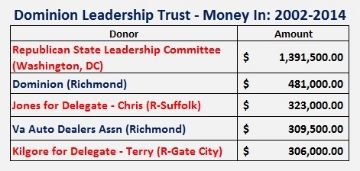 Yesterday I discussed the few members of our General Assembly who haven't been directly touched by Dominion. One such fellow is
Delegate Bloxom (R-Eastern Shore/Norfolk)
. However he has received funds from a PAC that Dominion has generously supported for years:
Dominion Leadership Trust
. Dominion is this PAC's second largest contributor.
Over the years, Dominion Leadership Trust, just one of many PACs Dominion Resources supports, has "invested" $10,973,016 influencing Virginia government. Though Dominion Resources' portion of that amount accounts for only about 4.4% of the total, that places the corporation second among those with clout in a PAC of like-minded members. And looking at the top donors, it is quite a gallery of influence. Dominion Resources leverages its direct donor influence by having a hand setting the agenda across the political spectrum in any number of PACs.
There is another gent on yesterday's list who has received funds from Dominion Leadership Trust: that would be Delegate Farrell (R-56th). Comparing the amounts the two received is a lesson in influence. Bloxom received $66,874 and Farrell $2,500. While Dominion Resources can only be attributed 4.4% of those amounts ($2980 and $111 respectively) when they respond (even if they did the math) to Dominion Leadership Trust, Dominion Resources's objectives get the attention corresponding to the greater amount.
The single contribution to Farrell did not occur until after he was elected to the House of Delegates and after his first two full sessions. Of the contributions to Bloxom, on the other hand, about $60,000 was reported during his campaign for a seat formerly held by Democrat Lynnwood Lewis and the remainder in the month after Bloxom's election. Dominion Leadership Trust accounted for over 43% of the funds "raised" by Bloxom. To whom is Delegate Bloxom beholden? It isn't the grassroots.
Spending just moments with Dr. Joseph Smiddy is a cascade of chilling water for those claiming faith in the American health care system. What a lot of people proclaim as the best medical system in the world isn't delivering for many with the greatest need right here in Virginia.
"It's not just that they can't afford any sort of insurance that might be available to them under the Affordable Care Act. It's that this is a horribly underserved region in terms of medical resources." - Henry Schuster, 60 Minutes producer (at 3:17)
Organizers of an expeditionary Remote Area Medical (RAM) clinic just outside of Jonesville, Virginia expect something on the order of 600 patients today and tomorrow. This is the first of this kind of event in Lee County, set up in and around the airport that sits further west than Columbus, Ohio and Detroit, Michigan, far removed from Richmond. Sadly, this constitutes primary care for many residents. When I arrived yesterday as a volunteer, 22 hours before the first patient would be seen, there were already three carloads of people lined up to ensure they could get one of the specialty services. They know the routine.
Somehow Delegate Terry Kilgore (R-Gate City) avoids discerning scrutiny from his constituency. Even with all that tobacco money he is bringing home, many of those living in Virginia's poorest county rely upon the generosity of others for any health care at all. The county's only hospital closed about a year ago.
On September 30, 2013, the Lee Regional Medical Center closed its doors after serving the community for 70 years. With the loss of jobs and decreased access to medical care, the residents of Lee County have been deeply impacted by the hospital's closure. - Lee County Hospital Authority The official Twitter feed of the Democratic Party of Virginia
has just accused the Republican Party of Virginia of bribing a Democratic State Senator in order to block Medicaid expansion. These are very strong words: bribery is a crime. In fact, bribery is two crimes--when a bribe is offered or paid both the person offering the bribe and the person accepting the bribe are potentially guilty of bribery.
The principals in this case are State Delegate Terry Kilgore (R) and State Senator Phil Puckett (D). News reports are alleging that Kilgore arranged a cushy, highly-compensated job for Puckett at Virginia's Tobacco Commission in exchange for Puckett's agreeing to resign and tip control of Virginia's state senate to the Republican Party of Virginia's control. You can read more at these links: Crossposted at ProgressVA.
When you're a Republican lawmaker, and even the ultra-conservative, anti-immigrant blogger Black Velvet Bruce Lee says your legislation is a contender to be "dumbest bill of the year," you know you're in trouble. But that's just what he said about Del. Terry Kilgore's bill to provide up to $8,000 in tax credits for those who want to launch their cremated remains into space, and I'm inclined to agree.
Julian Walker at the Virginian-Pilot reports, "In a brief interview Thursday, Kilgore, R-Scott County, said he submitted the bill on behalf of commercial space flight advocates." The astronomical idea to incentivize wealthy individuals who want to launch their cremated remains into the cosmos via a commercial space flight not only sounds outlandish, it's also coming at a time when Virginia is facing a $1 billion budget shortfall.