 Del. "Sideshow Bob" Marshall is out with his latest bill,
HB91
, which would allow "full-time faculty members of public institutions of higher education who possess a valid Virginia concealed handgun permit to carry a concealed handgun on campus." Sound like a good idea to you? Well, it certainly doesn't to a Blue Virginia reader, who emailed me to ask, "Can you imagine this guy with Bob Marshall's bill?" Having watched the video, I'd be inclined to say "no." Actually, "hell no!" :) How about you?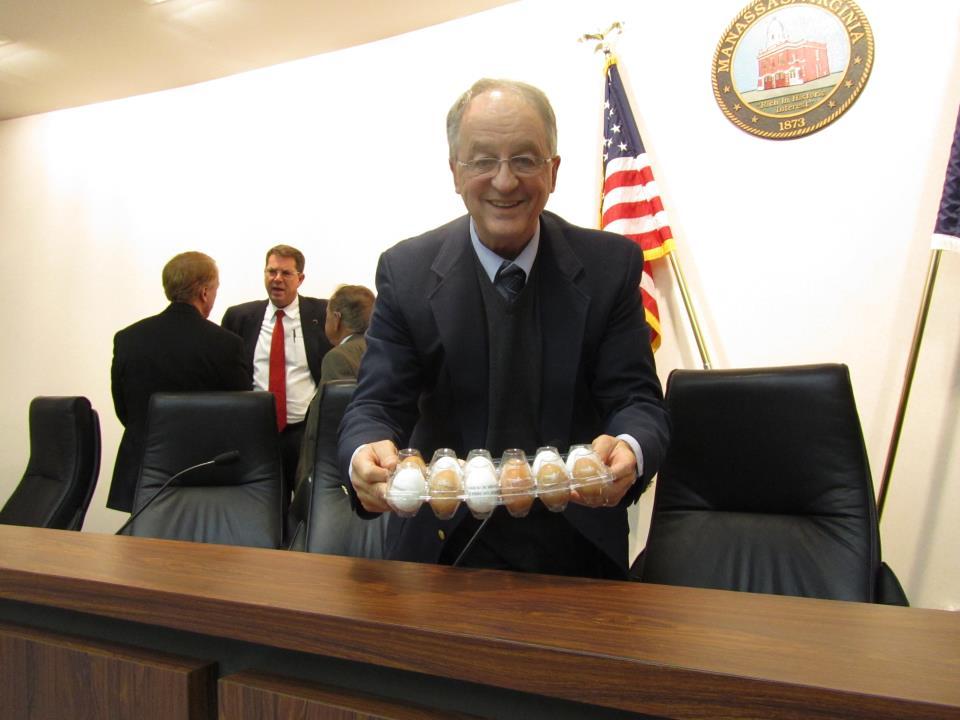 This photo of "Sideshow Bob" Marshall and a dozen eggs was posted by Marjorie Signer of the Religious Coalition for Reproductive Choice
posted this photo on her Facebook page
, and a BV reader suggested it might make a great subject for a caption contest. One commenter points out that Marshall is the patron of HB1, the fertilized-egg-is-a-person bill, holding a carton of hardboiled eggs. And smiling. To me, that's pretty funny. What do you think? Crossposted at ProgressVA.
Opposition to a blatantly anti-labor bill is beginning to build in Virginia, and State Senators Dave Marsden and Chap Petersen and Delegate David Englin are among those voicing criticism. House Bill No. 2, introduced by Delegate Bob Marshall, would prohibit Virginia from providing funding for Phase 2 of the Dulles Corridor Metro Project if it is subject to a project labor agreement (PLA).
PLAs don't actually require projects to only hire union workers--they are a tool for taxpayer accountability. PLAs require the use of trained workers and safety standards for contractors, and worked great on Phase 1 of the project, as we pointed out previously. State Senator Dave Marsden said in a statement this week,
"What concerns me is that this bill appears to stem from an anti-union mindset that places ideology over public good and job creation. It could lead to experienced workers who performed well on Phase I being excluded from Phase II, and create the need for the expense of training new workers. Just as importantly, the PLA will create local jobs for a largely local workforce... A PLA is not always necessary on public projects, but I would ask my good friend Delegate Marshall, 'what problem are you trying to solve with this legislation?' It seems that continuing the PLA during Phase II is in keeping with good public policy. Let's not remove what has proven to be successful tool from consideration."
(More below the fold.)
The following letter is from the
LGBT Democrats of Virginia
, which includes the LGBT Caucus of the Virginia. I strongly approve of their letter to "Sideshow Bob!" (bolding added by me for emphasis)
Re: Enough is enough, stop lying, Bob!

Dear Delegate Marshall:

In your letter yesterday to President Jeffrey Lacke of the Richmond Federal Reserve Bank, you condemned the flying of the rainbow flag outside of the bank building. While the rainbow flag has been used by various groups for over 500 years as a symbol of diversity and hope, you condemned the flying on the flag in recognition of June being federally recognized as Lesbian, Gay, Bisexual, and Transgender Pride Month.

While we have never doubted your fierce opposition to the LGBT community, as shown by your sponsorship of the discriminatory anti-marriage amendment in the Constitution of Virginia, we are outraged by the claims you made in your letter to President Lacke as the basis for why the rainbow flag should not be flown.

In your letter, you wrote that being gay, "shortens lives, adds significantly to illness, increases health costs, promotes venereal diseases."

We contend that there is no difference in the lifespan or health of responsible members of the LGBT community when compared to responsible heterosexuals, and that such language as you have used to support your opposition to the flying of the rainbow flag is inflammatory, intolerant, and deceptive. Moreover, your claim of moral superiority seems to blind you to the intolerance you have expressed.

As Virginia's own Thomas Jefferson said, "I never will, by any word or act, bow to the shrine of intolerance or admit a right of inquiry into the religious opinions of others."

Delegate Marshall, we call on you stop perpetuating ignorance and falsehoods. It's time to stop lying to the people of Virginia.

Sincerely,

- Terry Mansberger
Chair, LGBT Caucus
Democratic Party of Virginia

- Tiffany M. Joslyn
President, Virginia Partisans
The PAC of LGBT Democrats of Virginia
Photo credit: The Richmonder When government officials overreach and abuse their powers, they are wicked, tyrannical, communist and anti-American. Except when they're Republican. Then, they're heroes!
That seems to be the conclusion of a recent Op-Ed in the Washington Examiner, a right wing rag so worthless that it has to be given away for free. In this commentary, state Delegate Bob Marshall and two conservative nobodies defend Attorney General Ken Cuccinelli's assault on climate scientist Michael Mann and the University of Virginia, and proclaim that they're backing up Cooch's Civil Investigative Demands (CIDs) to U.VA. with a Freedom of Information Act (FOIA) of their own.
They join the attack on Thomas Jefferson's university by - conservatives' favorite strategy - blaming the victim. Their argument being that a university that defies the efforts of a powerful government official to accuse a former professor of criminal fraud for supporting climate change - based on zero evidence, as one judge has already found - must be "hiding something."
All this from the same conservatives who compare President Obama to Adolf Hitler for, um, requiring people to buy health insurance? How can people survive with such cognitive dissonance without their heads exploding? You may recall that back in September,
Attorney General Ken Cuccinelli
proposed that "gubernatorial candidates to pay up to $50,000 for a spot at the party's nominating convention," that LG and AG candidates pay "up to $25,000," and that delegates to Republican conventions have to pay fees as well. As the
Washington Post reported
at the time, "some Republican activists worry that raising filing fees could shut out unconventional candidates who have trouble paying the hefty fees to get into the nominating process." In addition, this move was "seen as a way to ensure the party chooses a convention to nominate its gubernatorial candidate in 2013, a nomination process that favors more conservative candidates who are popular with the party's grassroots -- like Cuccinelli."
Now, a potential rival to Crazy Cooch is punching back. Over at Virginia Tomorrow, Del. Robert "Sideshow Bob" Marshall argues that the proposed fees will: 1) "discourage some Republican voters (especially those with children) and candidates from participating in conventions;" 2) "mean fewer energized volunteers for General Elections;" 3) "make the party seem elitist;" 4) possibly violate the Voting Rights Act; 5) "could impact participation of minorities"; 6) possibly "violate the 24th Amendment ban on poll taxes;" 7) possibly "lead to criticism that some statewide incumbents are seeking to insulate themselves from competition."
By "some statewide incumbents," read "Ken Cuccinelli." Apparently, the same guy who's so concerned with upholding every last comma of the constitution when it comes to the new health care law is not in the least bit concerned when it comes to assuring himself a smooth path to the Republican nomination for governor (presumably what he's running for in 2013). It will be interesting to see if other Republicans other than "Sideshow Bob" (e.g., Bob McDonnell, Bill Bolling) speak out on this one, especially with the yearly Republican "Advance" (seriously, these guys won't call it a "retreat") coming up on November 19-20 (at the Hilton McLean Tyson's Corner).
P.S. Speaking of the "Advance," it looks like "teh crazy" will be out in force, with Rick "Man on Dog" Santorum speaking at dinner, anti-immigrant fanatic Corey Stewart and Crazy Cooch both on the agenda, and of course with Bob Marshall and Dick Black hosting the Homophobia Hospitality Suite (my nickname for it) in room 724 on Friday night. Wild times in Tysons, check it out! :) by Paul Goldman
In an OPED piece published this morning by the Richmond Times Dispatch, Republican delegate Bob Marshall exposes the Tea Party as anti-American, at least as defined by the heroes of the American Revolution. He may have a point, as will be discussed below, since they have named themselves after a beverage created in China, not America. I mean: Tea Party conspiracy buffs would surely ask the Drudge Report, Fox News and Rush Limbaugh to investigate a situation where Democrats named themselves after something Chinese.
Let's be honest: What was stopping the Tea Party from naming itself after a true American product, such as Bourbon Whiskey, so declared as pure Americana by the Congress of the United States? For example, if the Tea Party is really anti-tax as they claim, why not name themselves after the Whiskey Rebellion of the 1790's? The basic anti-big government argument they make is similar is it not? Instead, they choose a Chinese beverage over one of ours. What do our Korean War veterans think of that?
I ask you: Is there proof the Tea Party isn't taking Chinese cash? During the Bush Administration, the fact that you couldn't prove something was considered proof that it was being purposely hidden from view. So the fact there is no documentary proof of a Tea Party-China connection, by GOP standards, should make conservative conspiracy theorists more, not less, worried the situation. Grab some popcorn, everyone,
this is going to be fun to watch
!
The deep, dark secret is revealed: George Allen will be running in 2012 (at least try to look surprised, willya?) and he's trying to clear the decks in advance of his run...

...the real contest isn't between Allen and one of the congressbeings, it's with Del. Bob Marshall...
In other words, it's a
racist dolt
vs. an
insane, sex-obsessed fanatic
for the Republican nomination to take on Jim Webb in 2012. This should be fun. According to Olympia Meola of the Richmond Times-Dispatch, "Headline-grabbing recent opinions from Attorney General Ken Cuccinelli have one thing in common: Del. Bob Marshall." Personally, I don't think it's so much that "Sideshow Bob" feeds Cooch his lines or pulls Cooch's strings, as that these two theocratic wackjobs are essentially 100% simpatico and are working hand-in-glove to turn Virginia into
this
. God help us. Just in case you already didn't realize why we gave Del. Bob Marshall the nickname "Sideshow Bob," you really need to
check out his latest lunacy
. Despite the (extremely unfortunate) fact that clean energy and climate legislation appears dead, deceased, going nowhere, etc. at the federal level anytime soon, "Sideshow Bob" is here to save us anyway! That's right, thanks to Del. Marshall,
"Virginia stands poised to stop [Democrats in Congress] at the borders with HB1397 which has already been introduced for the 2011 session of the Virginia General Assembly."
So...just in case Democrats attempt to jam "cap and trade" legislation through a "lamb duck session" (seriously, that's what this person wrote - "lamb duck!" - LOL) after the November elections, "Sideshow" Bob Marshall's House Bill No. 1397 will ensure that "No state agency shall assist any federal agency in the implementation of a federal global warming or climate change building code." In addition, as if Ken Kook-inelli needs any further encouragement, "The Attorney General is authorized to initiate legal action against the federal government if there is any federal law, regulation, or policy that seeks to apply federal 'cap and trade' legislation to Virginia."
So, there you have it: even as we watch global warming ravage the planet right before our eyes, and even as monolithic Republican opposition (along with a few "coal-state" Democrats) in the U.S. Senate blocks any action to deal with it, "Sideshow" Bob Marshall is gearing up to save us from the scourge of this Reagan Administration, consrvative Republican, free market idea known as "cap and trade."
(begin snark) By the way, this is only the latest example of "Sideshow Bob"'s heroic fight against liberalism> Whether it's saving us from the evils of equality for GLBT citizens, of having affordable and high-quality health care, or of saving our planet from climate disaster, Bob Marshall is always there for us. And for that, we should all be thankful. (/end snark)