We are no closer to expanding health care coverage in Virginia than we have ever been. Governor McAuliffe blames the tea party but that is too kind to the legislators who do not support expansion. They are either math challenged or corrupt, morally and/or ethically. The tea party provides obfuscation.
"There still is a House of Delegates which remains unmoved and unmoving on this issue." - Reverend John Peterson speaking at an Organizing Virginia vigil for Medicaid expansion just prior to the Senate joining the forces of obstruction
Hospitals and patients in Virginia have to live within the reality of the law whether or not one agrees or disagrees with the Affordable Care Act, explained John Peterson, Chairman of the Board of Augusta Health. So it is in all our best interests to find a solution that makes the law as workable as possible for as many patients and those who serve them as possible. $300 million in annual payments to Virginia hospitals were eliminated under the Affordable Care Act including disproportionate share hospital payments for treating the uninsured and cuts to Medicare reimbursement rates. Those Medicare reductions were to be offset by Medicaid expansion in the states.
Peterson outlined the effects of failing to expand Medicaid. Augusta Health provided some $25 million in uncompensated care last year and an additional $5 million in community benefits related to care.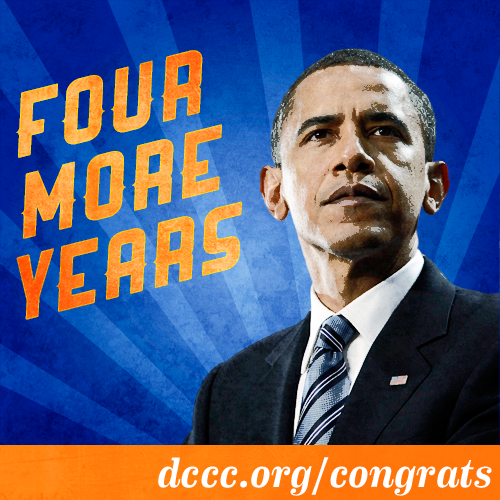 The polls are about to close on the Eastern United States. At 7pm EST we'll see polls close in Virginia, South Carolina, Georgia, and across most (but not all) of Florida. Virginia is of course, the first of the major swing states to close. So, to start out the night the big question: Are "you on your own" or we "all in this together"?
IF YOU ARE IN LINE, STAY IN LINE. DO NOT LEAVE THE LINE!
Electoral College Total of Called Races: Obama 303 - Romney 203.
Update 1:00am:
President Obama's Victory Speech:
* "These arguments we have are a mark of our liberty."
* "Our economy is recovering, a war is ending, and a long campaign is over. Whether I earned your vote or not, I have listened to your voice ... and I will return to the White House more determined than ever."
* The President identifies his Second Term Agenda: Deficit Reduction, Immigration Reform, Energy Independence.
Update 1:00am:
Mitt Romney concedes, graciously.
Barack Obama Wins Virginia!
Update 12:15:
Mitt Romney is disputing the election results in Ohio, but with the President's victory in Colorado this point is now moot. With or without Ohio, President Obama has been reelected.
Update 12:00:
President Obama wins Colorado and Nevada.
President Obama leads Virginia and Florida but they are still too close to call.
In an astonishing and pitiful move, the Romney campaign is disputing the Ohio result. A fitting end to a truly despicable campaign.
Update 11:12:
PRESIDENT OBAMA REELECTED!
OBAMA WINS OHIO, IOWA, OREGON
Update 11:00:
Obama Wins California, Washington, and his home state Hawaii.
Romney Wins Idaho and North Carolina.
Oregon, Iowa, Nevada Too Early to Call, Leaning Obama
Florida, Ohio, Virginia, Colorado Too Close to Call.
Update 10:00:
CONGRATULATIONS SENATOR ELECT TIM KAINE (D)!
Obama wins Minnesota
Romney wins Missouri
Update 9:50:
NEW HAMPSHIRE GOES FOR OBAMA!

The blackout apparently ends, although this debate should have been televised, radio broadcast, and/or live streamed yesterday. Still, better late than never; enjoy watching Tim Kaine demolish George Allen, it's highly amusing! :) How can we get Virginia Democrats even more psyched to support Tim Kaine? Here's an idea: have Ayatollah General Cuccinelli abuse his office to make a cheap political attack on him.
Well, what do you know? Wish for something hard enough and it happens.
Apparently George Allen and his cohorts have decided that they are not going to win the Senate race on current, relevant issues and so they have to resort to Willy Horton tactics. Horton, for those too young to remember, was the killer George H.W. Bush blamed Mike Dukakis for releasing from prison in Bush's slimy 1988 campaign.
It's an appropriate reference, since Cuccinelli is dredging up documents and issues nearly as old. In a NUTshell, they're trying to blame Kaine for trying to send a German murderer convicted in 1990, Jens Soering, to complete his prison term in Germany rather than Virginia. Bob McDonnell more recently reversed this extradition agreement so that Virginia taxpayers can keep paying for this guy's incarceration. (Lowell summarized the case in a bit more detail here The numbers reported for President Obama in Virginia earlier today are not a harbinger for a Kaine victory. That is obvious from the poll. Last month, Ben Tribbett examined some of the changes in the electorate and how those will affect the down ticket races in 2012.
Earlier today, I commented that the electorate's memory fades dramatically over the span of six months. Lowell pointed out that if the public is reminded about it constantly, with a barrage of advertising, it is like it happened yesterday. However, I recalled Ben's comments (toward the end of this video) about bringing up the macaca incident recently at a college Democrats chapter. Over half the audience, he said, had no idea what it was.
"People who don't know all that information, don't have all that history, are very vulnerable to cross-over." - Ben Tribbett
After looking at the numbers and considering Ben's analysis, Lowell's observation that the Republicans are doing Kaine a favor with their attempts to hang Obama around his neck is insightful. The President is far from an albatross.
Senate fundraising numbers are out today, and while the fact is that neither Gov. Tim Kaine nor George Allen will be without adequate funds come November -- given the intense national interest in their race -- the early numbers clearly suggest that Gov. Kaine's campaign is generating some real enthusiasm among Democrats, while Allen's is showing itself to be a worn out effort touting a candidate without any new ideas and little to offer.
In the throes of a primary campaign, Allen's fundraising was pretty anemic.
Gov. Kaine announced $2.2 million in fundraising for the first quarter and he has more than $4.4 million cash on hand,- a nice showing at this point in the race.
Even more significant, however, is the fact that 6,000 new grassroots donors made contributions of $200 or less, bringing the total number of low-dollar donors to more than 14,000 overall. This follows Kaine's submission last week of more than 30,000 signatures in support of his candidacy. In a federal campaign, where there are contribution limits, such broad grassroots support is essential.
Meanwhile, Allen announced only $1.4 million raised, with $2.66 million cash on hand. He provided no other data.
(more on the flip)
Let's just say, something tells me that Virginia Senate Democrats are not going to agree with this! The key conclusions: 1) "Contrary to the Democrats allegations, there is nothing in the Constitution of Virginia that limits the Lieutenant Governor's ability to vote on organizational matters;" and 2) "However, I have further concluded that the Constitution of Virginia does limit the Lieutenant Governor's ability to vote on certain other matters." (e.g, the budget, any bills to issue debt, and election of judges). We'll see you in court, Mr. Lieutenant Governor! :)
Friends,

Earlier today I issued an advisory ruling regarding my ability to break tie votes on certain matters that may come before the Senate of Virginia during the upcoming legislative session. I am writing to make you aware of that ruling and the reasons for it.

First, a bit of background information.

As a result of the November elections the Senate of Virginia now has 20 Republicans and 20 Democrats. Because of this equal division my role as President of the Senate will take on added visibility and significance during the upcoming General Assembly session.

For example, with my vote we will be able to organize the Senate with a Republican majority. That means we will have a Republican Majority Leader, Republican committee chairs and Republican majorities on Senate committees. I'm glad to see this; if nothing else, it's about time that the courts decided what the deal is with the powers of the Virginia LG vis-a-vis the Senate That shouldn't remain unresolved.
Senate Democrats File Suit to Stop Republican Power Grab; Ask Court to Prevent Lt. Governor from Voting on Senate Organization

(Richmond, VA) Today, Virginia Senate Democratic Caucus Chair Donald McEachin filed suit in Richmond City Circuit Court, on behalf of the Senate Democratic caucus, to stop the Lt. Governor from breaking an expected tie this January when the Senate comes back into session and organizes for the next four years.

"The voters elected 20 Democrats and 20 Republicans to the Senate. Yet, in spite of that, the Republicans choose to ignore these results and, instead, claim absolute power and authority," said McEachin (D-Henrico). "This willingness to ignore the evenly divided results of the election is unfair and unacceptable."

The lawsuit seeks a declaratory judgment acknowledging that the Lt. Governor does not have the constitutional right to cast a vote breaking the expected tie about how the Senate organizes. In addition, the lawsuit seeks a temporary injunction preventing the Lt. Governor from voting on organization until the issue is resolved. Copies of the lawsuit were provided to Lt. Governor Bolling and Attorney General Cuccinelli.

"In Virginia, only an elected member of the Senate can vote on the rules of the Senate. The Lieutenant Governor was not elected to the Senate." said McEachin. "Unfortunately, the Republicans have not shown any inclination to work with us to resolve this impasse. In a 20-20 Senate, power should be shared, but, instead, the Republicans insist on an arrogant power grab."

Senator McEachin will be available to the press today from 1:30pm-2:00pm outside House Room D in the General Assembly Building - before the Joint Meeting of the House and Senate Commerce and Labor Committees.
Great move by the Virginia Senate Democrats. Now, do NOT back down to the Republicans' wild overreach (with lots more to come, I'm sure)! Thank you. :)
Senate Democrats to File Lawsuit to Stop Republican Power Grab
Republicans Overreaching in Claiming a Majority and Seeking to Re-do Redistricting

Richmond, VA - In one of the largest power grabs in modern Virginia history, Republicans are claiming a Senate majority they did not earn and also announced they would like to "re-visit" redistricting. In response to the Republicans claiming the Lt. Governor has the authority to break a tie for re-organizing the Virginia Senate, Senate Democrats today announced they will file suit to force a ruling on the power of the Lt. Governor to break tie votes in a Senate that now has 20 Democrats and 20 Republicans.

"You would think after an extremely close election Republicans would come out with a plan that addresses jobs, education, transportation, and other issues facing Virginia families" said newly-elected Senate Democratic Caucus Chair Donald McEachin (D-Henrico). "Instead, the first thing Senate Republicans do is claim a majority they do not have and announce their intention to re-draw Senate district lines. Republicans are showing us right now that their number one priority is the accumulation and exercise of political power for their own benefit."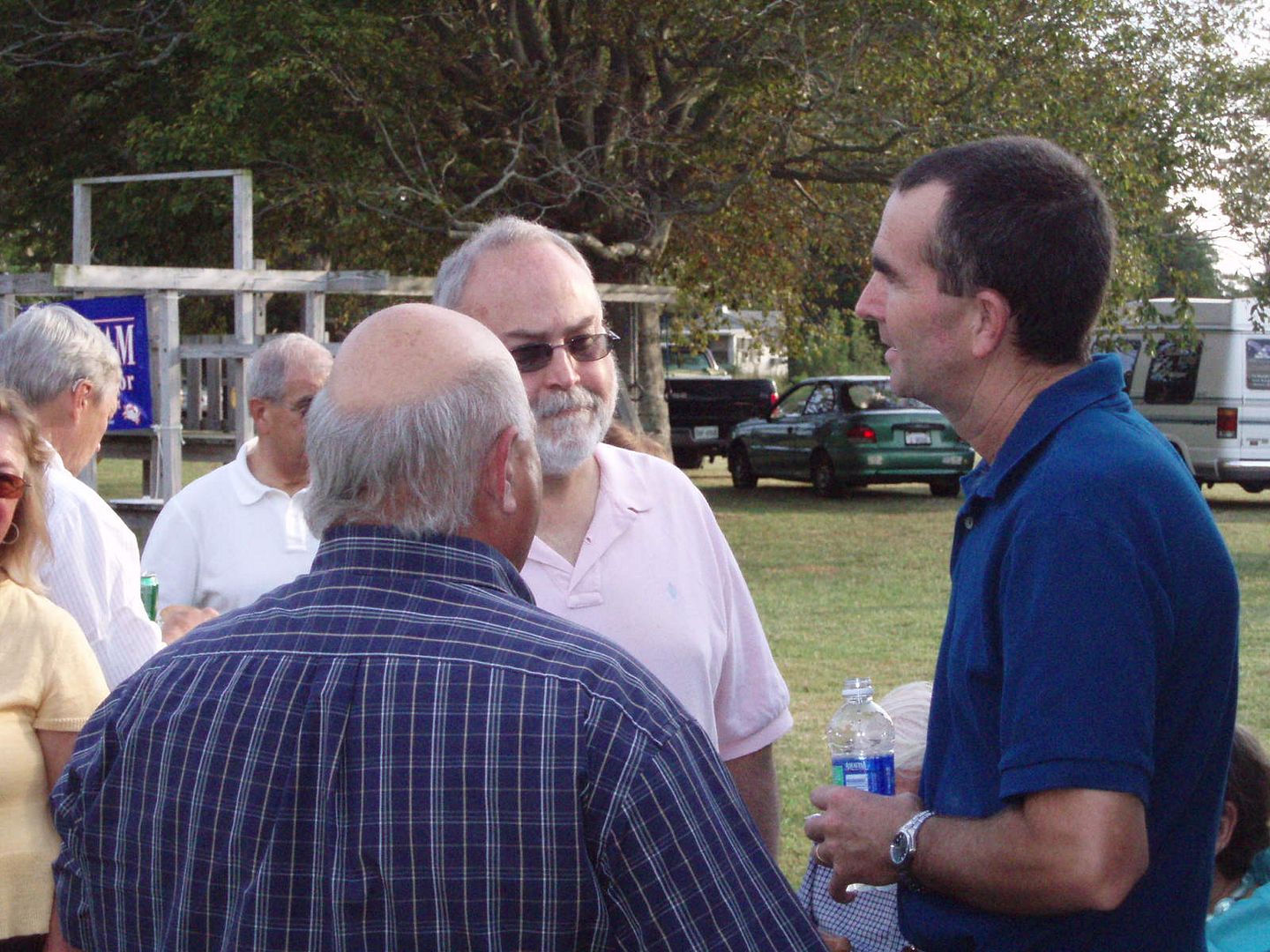 Honor distinguishes Doctor Ralph Northam's character. It was recognized early on by all with whom he came in contact; chosen by his fellow students at VMI to head the Honor Court: the classmate whose judgment they trusted most. His character is reflected in his campaign staff and his campaign.
Northam's opponent and the RPV have employed the common lowbrow attack strategy. The issues important to the district have never been at the center of the Republican's campaign. His opponent would be critically vulnerable to a negative strategy from the Northam camp. But Senator Northam (D-6th) did not fall to that temptation. And unlike others, who rue their 2009 strategies, he can walk away from this race, either way it goes, certain he has not violated his own personal standards and that he has run the best race possible.
"I am a huge Ralph Northam fan. I worked with Ralph when he ran and won his Senate race on 07. It was just an absolutely magnificent race. I think Ralph is one of the great public servants in Virginia." - Governor Tim Kaine
Anyone involved in the Senator's 2007 race, where he unseated a Republican incumbent, knows that his staff then, managed by Jon Blair, was as professional as they come. Jon went on to head up the successful 2008 race for New Mexico Congressional candidate
Martin Heimrich
. That same atmosphere is evident at his current campaign headquarters on Granby Street in Norfolk. On a recent visit, the phone rang and a volunteer answered, then asked, "Is there anyone here who can talk to a man about menhaden?" And every campaign staff member raised their hand. It isn't often that they have to reach for Northam's legislative assistant, Matt Strickler. All of them know the district and the issues far better than Northam's opponent. Ralph surrounds himself with class and competence.