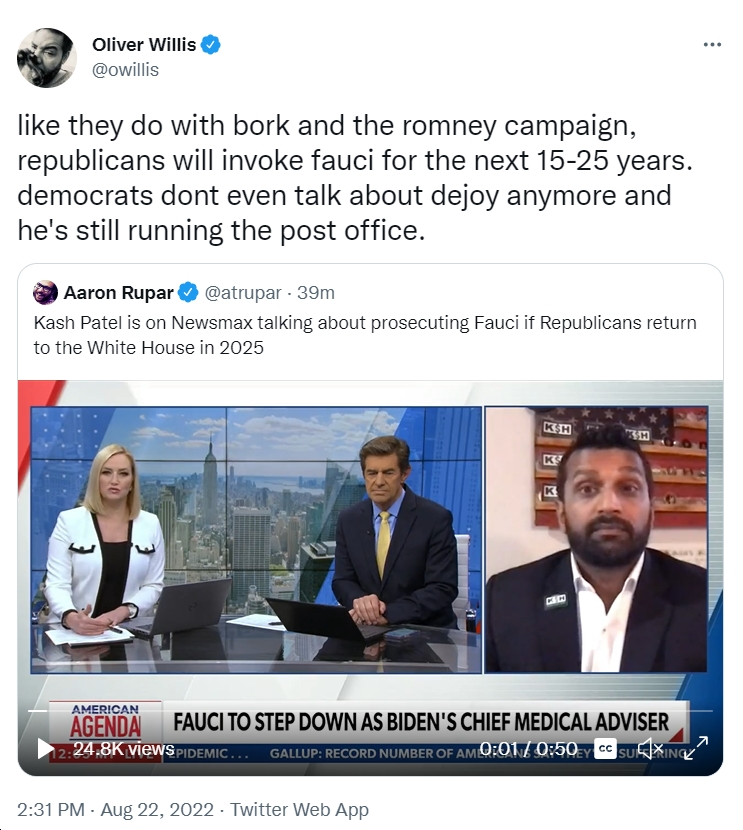 This is a great point by Oliver Willis – that Republicans "will invoke Fauci for the next 15-25 years," while Democrats seem to have the attention span of drunken gnats, barely even (if at all!) mentioning the most appalling Republican behavior even months later, let alone years or decades later.
Compare and contrast to Republicans, who – more than 50 years after the Democratic and Republican parties massively transformed (following the conservative white backlash over passage of the Civil Rights Act and Voting Rights Act in 1964-1965), with Democrats shedding their old, "Southern Democrat"/"Dixiecrat" wing – almost all of whom became Republicans – and Republicans over a couple decades losing essentially all their once-plentiful moderate and even progressive Republicans (Lowell Weicker, Jacob Javits, John Chaffee, Charles Mathias, Charles Percy, Arlen Specter, Jim Jeffords, etc, etc.). Yet today, you'll STILL hear Republicans constantly bring up the fact that the Democratic Party used to be (many, MANY years ago!) the party of racist "Dixiecrats," while their own party is still – in their minds, not at all in reality – the "party of Lincoln" (which it hasn't been since…what, the 1950s?). It would be as if Democrats were constantly talking about FDR, the New Deal, the Great Society, etc, and bashing Republicans for Calvin Coolidge or Richard Nixon or Barry Goldwater or whatever. But Democrats don't do that, while Republicans – seemingly with the looong memory span of their mascot, the elephant – most definitely DO! Hell, Republicans are more likely to bring up Jimmy Carter or George McGovern than we are to bring up Ronald Reagan or Richard Nixon. It's bizarre.
Anyway, Oliver Willis' tweet got me to thinking about which Virginia Republican politicians of the past would be the types of people you'd think Democrats might want to bring up now and again (or frequently!) in order to demonstrate how corrupt, extreme, incompetent, etc. Virginia Republicans are and have been for many years.  As you check out this illustrative list, keep in mind that Virginia Republicans will probably never let anyone forget that Ralph Northam had "blackface" photos on his yearbook page nearly 40 years ago – in fact, it often seems to be Virginia Republicans main response on social media! – while Democrats rarely if ever mention the following:
Bob McDonnell's many scandals, including of course that  "On January 21, 2014, McDonnell and his wife were indicted on federal corruption charges," with McDonnell becoming " the first Governor of Virginia to be indicted for actions committed during his tenure." Plus, of course, McDonnell was known as "Taliban Bob" for his extreme views, with Jim Spencer of the Daily Press writing in 2003: "McDonnell, a man considering a run for Virginia attorney general, apparently has decided to warm up by appointing himself head of Virginia's new Ministry for the Promotion of Virtue and the Prevention of Vice. If you thought such overbearing minions of morality existed only among Afghan extremists, think again. Taliban Bob says Newport News Circuit Judge Verbena Askew may not be fit for reappointment to the bench if she ever violated the state's crimes-against-nature law."  But do you ever hear Virginia Dems bring up Bob McDonnell's name? Nope. Nada. Zip. Why is that?
Ken Cuccinelli's horrendous four years as Attorney General of Virginia, let alone his appalling tenure in the Trump administration: You'd think that Virginia Democrats would relentlessly brand the Virginia GOP as the party of this extremist, but…nope, you never hear a word about him. Here's just a short reminder of what we're talking about with this guy, including the MASSIVE amount of material about "the Cooch" which Virginia Dems could use to help "brand" the Virginia GOP:
Then there are the other two members of the 2013 "Extreme Team" ticket – E.W. Jackson (for LG) and Mark Obenshain (for AG) – about whom there are reams of material that Virginia Dems could use to remind people how crazy this party's been for so long. Here's just a sampling on those two guys:
Former Senator George Allen, who – as I wrote in August 2020 – It's Been 14 Years Since the "Macaca" Incident: Some Thoughts…and an Update on What Jim Webb, George Allen Have Done Since Then. Remember, of course, that it wasn't just Allen saying a word that turned out to be a racial slur; it was a LOT of other stuff about that guy which came out in that campaign or earlier, such as: this ("A former college football teammate of Sen. George Allen's has confirmed details of a controversial hunting trip in the early 1970s, during which Allen is alleged to have placed a severed deer head in a mailbox that he believed to be owned by a black family."); this ("the leader of America's top racist group explains Allen's long and cozy history with white supremacists."); this ("A Confederate flag appeared in a 1993 George Allen campaign ad. And at a Virginia event in 2000, Allen reportedly said, "Long live the Confederate flag!'"); and much, much more. And yet do we ever hear about George "Felix Macawatiz" Allen anymore? Nope. Again, why not? If we were Republicans and Allen were a Democrat, do you think they'd ever let us live that one down?
Anyway, this could go on and on – "Sideshow Bob" Marshall? Extremist Dick Black? Ed Gillespie's disgraceful 2017 campaign? Jim Gilmore's disastrous governorship, during which he drove Virginia's finances into a ditch? – but you get the idea. The question, again, is why don't Democrats keep this stuff alive in people's memories? Why is that only Republicans seem to do that – and mostly dishonestly! – about Democrats, while Democrats move on the second someone's out of office, as if they'd never existed, instead of using that material for many years to come? Part of it is that right wingers have a media network/echo chamber to push this stuff, and part of it is that it's just the way right wingers think. But still…as Oliver Willis astutely points out, Democrats are committing political malpractice by leaving this material on the table and not using it. That really needs to change.