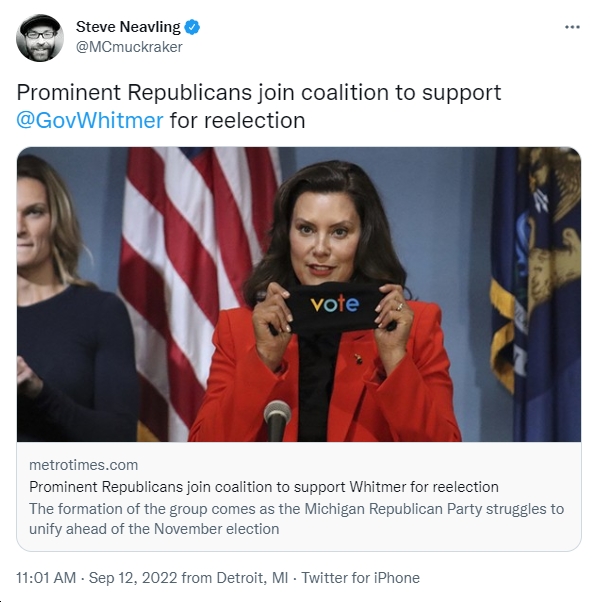 So let's get this straight: back on August 20, supposed "moderate" (but actually hard-right/Ted Cruz-and-Ron Desantis-style) Republican Glenn Youngkin was in Michigan campaigning for MI-GOP(Q) gubernatorial nominee Tudor Dixon (a 2020 election conspiracy theorist and all-around extremist who insanely believes that "the bond that [14-year-old] rape victims will have with their babies will help them heal"). But now, according to the Detroit Metro Times, even many Michigan Republicans are breaking from Dixon to support Michigan Gov. Gretchen Whitmer (D)'s reelection:
More than 150 Michigan Republicans banded together to launch a group supporting Gov. Gretchen Whitmer's reelection bid, her campaign announced Monday.
The group includes business leaders, former state lawmakers, an ex-congressman, and top staff from the Republican administrations of Gov. John Engler and Rick Snyder. Jeff Timmer, the former head of the Michigan Republican Party, also signed on.
This really tells us how far-right Youngkin actually is, even compared to some in his own party. It's also important to note that Dixon wasn't the only far-right Republican Youngkin has campaigned for (or is planning to campaign for) this cycle. Such as:
Etc. Getting the idea about who and what Youngkin really is, in sharp contrast to what "journalists" told us (or failed to tell us) last year?