Heading into last night's Fairfax County Democratic Committee endorsement meeting for at-large School Board candidates, I was four-for-four in my endorsements to date: Melanie Meren (Hunter Mill District),  Karl Frisch (Providence District); Ricardy Anderson (Mason District); Laura Jane Cohen (Springfield District) all won their respective endorsements. For last night, I had endorsed Rachna Sizemore Heizer, Karen Keys-Gamarra and Abrar Omeish, although I also greatly respect incumbent Ilryong Moon (thank you for your great service all these years!), making this a tough one to pick three candidates for four slots. As for the process being followed last night, a great deal has been said – including by me – about how this is *not* how Democrats should endorse and/or nominate candidates. Among other problems, this really restricts the number of people who can vote; it greatly lessens the need for incumbents to campaign and make their case to voters; it leads to all kinds of attempts to "game the system," such as having people "join" the committee with absolutely no intent of being active members; etc.  Let's hope that the Fairfax County Democrats never do this again. Ever.
With that, see below for the results from tonight's FCDC endorsement meeting. Congratulations to all the endorsees – Karen Keys Gamarra, Abrar Omeish, Rachna Sizemore-Heizer (my three endorsed candidates, making me 7 for 7 in endorsements) for the At-Large positions, plus the previously endorsed candidates for magisterial district positions (Karl Frisch in Providence District, Ricardy Anderson in Mason District, Melenie Meren in Hunter Mill District, Laura Jane Cohen in Springfield District, Stella Pekarsky in Sully District, Elaine Tholen in Dranesville District, incumbents Karen Corbett Sanders in Mt. Vernon District, Megan McLaughlin in Braddock District, Tamara Derenak Kaufax in Lee District)  and best of luck in the general election this coming November! Note that Fairfax Republicans have apparently opted to become even more extreme/fringe than they already have been, with people like…these. So yeah, Fairfax Democrats really need to make sure they turn out this November and prevent any of the Republicans from winning their election. That is, if they want a great School Board of talented, caring, smart, competent, experienced people — not one that's not filled with anti-LGBT, pro-Confederate, anti-science nutters, bigots and cranks.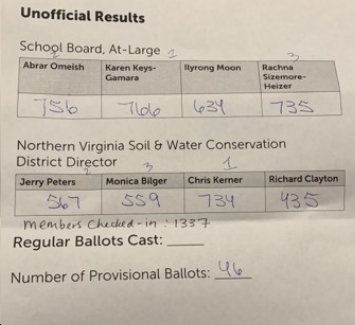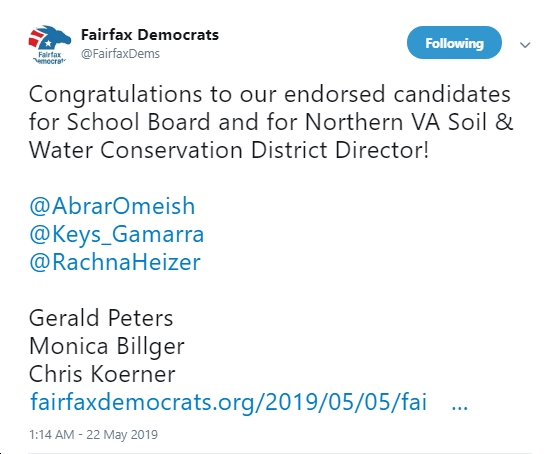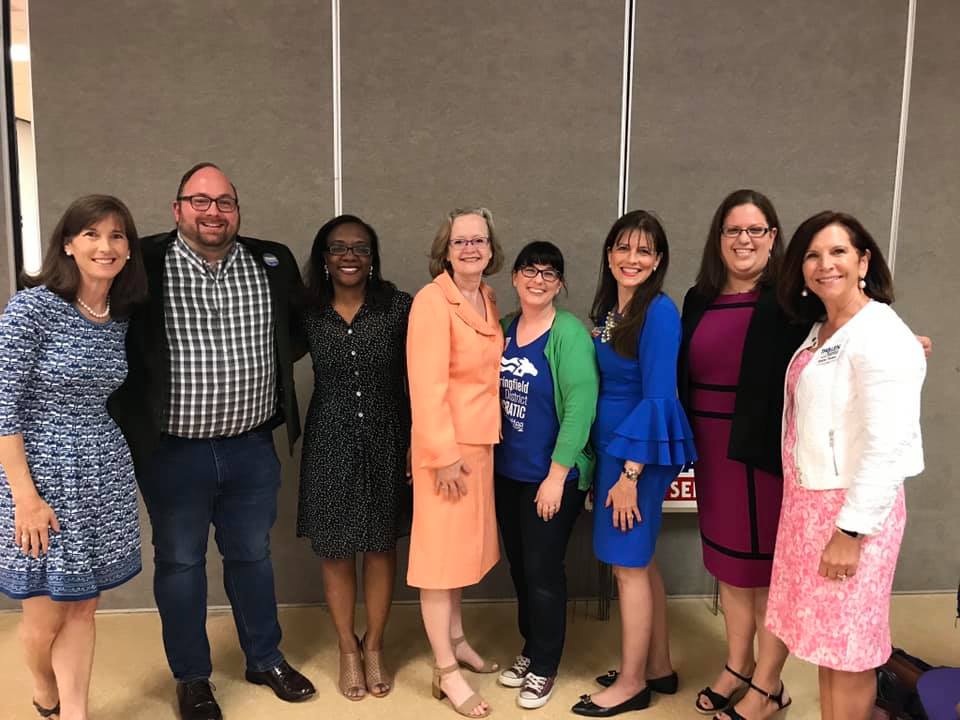 Congrats
 to my almost constituent and Lee District resident 
Monica Billger
on her nomination to the Fairfax County Soil and Water Board!
Also, want to say THANK YOU to 
Ilryong Moon
 for his service on the School Board for over 20 years now including five as Chairman. Illryong has added an important voice as the only immigrant on the Board and a voice for the Asian American community which is now the largest minority group in Fairfax County. Illryong and I also became close he and the 
Fairfax County Democratic Committee
 battled and lost the Braddock District Supervisor special election by 89 votes and then we had a messy post-election canvass with a broken touchscreen voting machine. Stay involved my friend!
The Hunter Mill District Democratic Committee congratulates Abrar Omeish, Rachna Sizemore Heizer for School Board, and Karen Keys-Gamarra, on their endorsement tonight for At-Large School Board by the Fairfax County Democratic Committee! And thank you to Ilryong Moon for running a great campaign!
Congratulations to Rachna Sizemore Heizer for School Board, Karen Keys-Gamarra, and Abrar Omeish following the results announcement at the FCDC meeting last night.
An enormous thank you to Ilryong Moon for your dedicated years of service to our community and all the students' lives you've improved after two decades of commitment to learning outcomes.
I am looking forward to working with all Fairfax Democrats during the rest of primary season and then uniting around our ticket for the November elections. Onwards!
Congratulations to the winners of Fairfax County's Democratic endorsement last night: Karen Keyes-Gamarra, Rachna Sizemore and Abrar Omeish. These ladies are great candidates who represent the County in so many ways and did a tireless job campaigning for this well-earned endorsement. Unfortunately, last night's vote will mean that Ilryong Moon will not be returning to the School Board after five terms. Ilryong has been a pioneer on the Board and a friend to me. (I'll never forget him chasing me down when I was door-knocking thru Kings Park West in 2001 to hand me a $200 donation). He also combined three perspectives on the SB as an immigrant, small business owner and (yes I said it) father. Those perspectives will be missed.