As we wrap up the final days of this election cycle, with the Republican brand in the tank and with the leader of their party – Donald Trump – mired in corruption, scandal and deep unpopularity, one thing is glaringly obvious all across much of Virginia – the Trump Republican Party does not want you to know that their candidates are…Trump Republicans. Which, of course, they are, since almost NONE of them have disavowed Trump, even after all that's come out about him, with some even – astoundingly – defending the guy!
Yet, even as they refuse to break with Trump, Republicans across the Commonwealth – as Del. Rip Sullivan pointed out a couple weeks ago – are publicly, and laughably, "pretending to be moderates," acting like "they have never heard of "President Trump," and "would appreciate it very much if you wouldn't bring up their voting record."  Which, of course, is why many/most of their websites, signs, mailers, TV ads, campaign lit, etc. are devoid of the key word – "Republican."
Are Virginia Republicans rightfully ashamed to be Republicans? Are they echoing the deceit and lies from Donald Trump's White House? Or, most likely, are they making a deeply cynical political calculation that the Republican "brand" is severely tarnished at this point in Virginia, so they're hiding who they really are?
One excellent example of this phenomenon is former hard-edged, hyper-partisan, Republican Party of Virginia Chair John Whitbeck, who has been dishonestly, cynically reinventing himself as some sort of "moderate" in his race for Chairman of the Board of Loudoun County. Please make sure, on 11/5, to reelect Phyllis Randall – who's a proud Democrat and not hiding that fact – and the rest of the Democratic ticket in Loudoun County.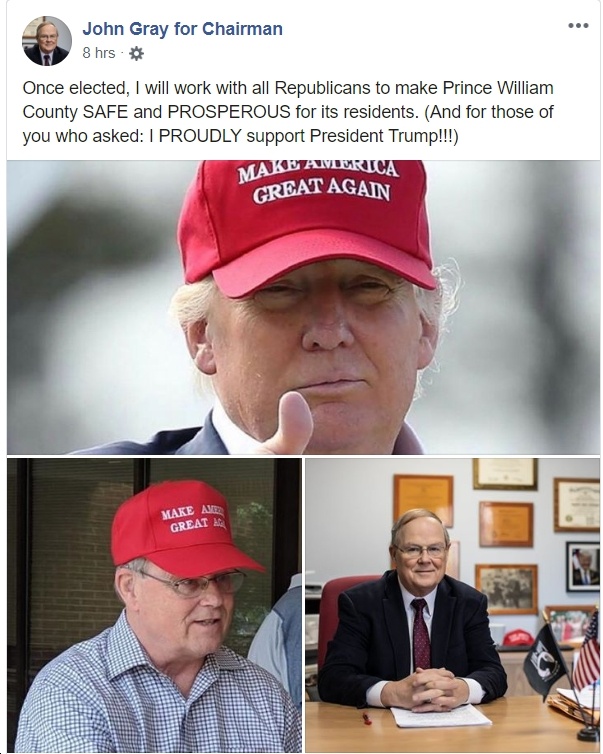 Another great example is in Prince William County, where Republican school board members Alyson Satterwhite and Willie Deutsch are running alongside their good friend John Gray. Gray, of course, is the flag bearer for the Trump Republican brand in Prince William County. Gray is well known for his racism and prejudice, as displayed by his many, many offensive tweets (note: also see "50 Shades of John Gray" for more on that guy's extremism, bigotry and all-around lunacy). And, to his credit, Gray is one of the few Virginia Republicans who doesn't seem to be running away from Trump.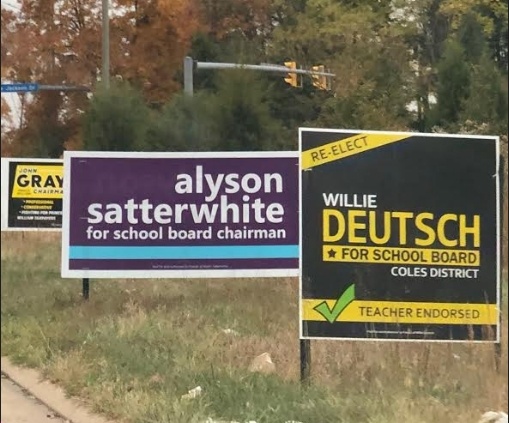 As for the other Republicans running in Prince William County this year – for instance, Alyson Satterwhite, candidate for School Board Chair, and Coles District School Board member Willie Deutsch – as you can see from the image of their street signs, there's no indication anywhere that they're Trump Republicans. Which, of course, they are. And there's certainly no indication that they champion John Gray's attitudes, for instance by having voted to oppose the Prince William County Schools' non-discrimination policy, or by continuing to oppose policies of inclusion in the school system.
On the one hand, it's infuriating that these people are trying to pull the wool over voters' eyes. On the other hand, it's sadly not surprising, given the deep unpopularity of Trump-style Republicans in suburban Virginia counties like Prince William, where Corey "I was Trump before Trump was Trump" Stewart got annihilated (by a 2:1 margin) last November by Tim Kaine for U.S. Senate…in his own home county, where he's Chairman of the Board of County Supervisors, no less! Also, would you expect anything less from Prince William County Republicans who actually support John Gray – someone even more extreme and obnoxious than "neo-Confederate Corey" – for Chairman of the  Board of County Supervisors?
In reality, even as these folks hide who they really are (Trump Republicans), they will all champion extreme, Trump/Corey/Gray-style policies and agendas. They will put their signs next to each other, campaign together, knock doors together…but they won't tell you they are Republicans!
It is important in this election to know who the Republicans are. In Prince William County, for instance, we've got folks like Alyson Satterwhite (running for School Board Chair against the superb Babur Lateef, who everyone should vote for on 11/5!) and Willie Deutsch, along with Supervisor Jeanine Lawson (see here for a LOT more on her…and make sure you vote for Democrat Maggie Hansford on 11/5!), Supervisor Ruth Anderson (see here for more on her, and vote for Democrat Kenny Boddye on 11/5!), Supervisor Pete Candland (vote for Democrat Danny Funderburk instead!), etc. Among other problems, these are the people who have underfunded and neglected Prince William County Schools for so long. That needs to change…and next Tuesday is the opportunity to do so!
Fortunately, Prince William County has great alternatives to the Trump Republicans pretending not to be Republicans, with Democratic candidates like:
These candidates are poised to lead Prince William County forward to a much brighter future. And, unlike Trump Republicans, they are not afraid to tell you who they really are!