Advertisement

There are, of course, many bad – extremist, seditionist, bigoted, you name it – Virginia Republican elected officials, from State Senator Amanda Chase to Del. Nick Freitas to Rep. Rob Wittman (R-VA01) to Rep. Ben Cline (R-VA06) to Rep. Bob Good (R-VA05) to Rep. Morgan Griffith (R-VA09) to…the list is basically endless. But even among these folks, you really can't get much worse than Del. Dave LaRock (R-HD33). For just a short sampling of what we're dealing with when we're talking LaRock, see:
So clearly, this guy is both extreme and also dumb as a…well, rock. Anyway, now LaRock's got a new website – courtesy of comedy writer Toby Morton (South Park, MADtv) – who explains:

"This is Virginia Delegate, Dave LaRock. Not only did he ask VP Pence to nullify Virginia's Presidential Electors, but 6 months ago he was at The Capitol supporting the mob. Also, he failed to secure HIS OWN domain. I got it. @LaRock4Delegate needs to go."
Nice – (La)Rock and (La)Roll! (get it? haha) Anyway, check out the new website, and learn all about LaRock's "questionable lifestyle," how he's a "seditionist/racist," and even how he's "endorsed" his Democratic opponent, Paul Siker. Yes, it's a tough, "red" district, but according to Ben "Not Larry Sabato" Tribbett, it's not 100% safe for LaRock, so…hey, if LaRock can get a new website, maybe HD33 can get a new, competent, non-batshit delegate? 🙂
P.S. Also note that VA GOP gubernatorial nominee Glenn Youngkin seems to love this guy, thinks he needs to be reelected, etc. Which tells us all we need to know about Youngkin…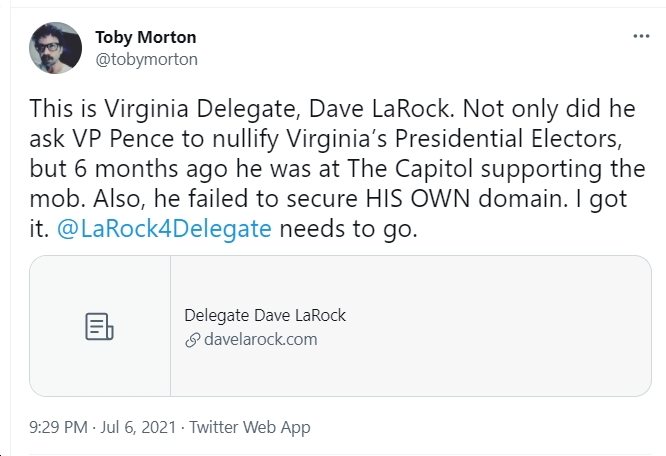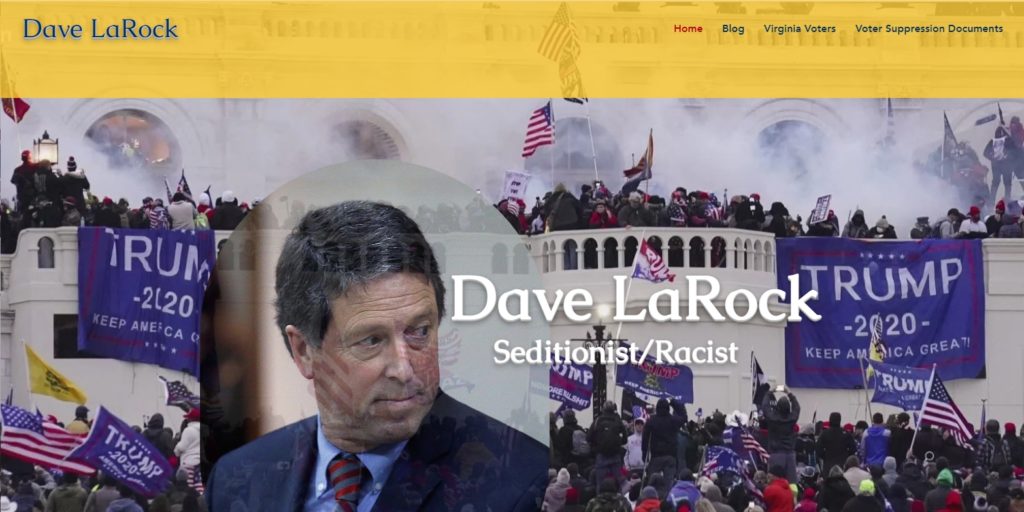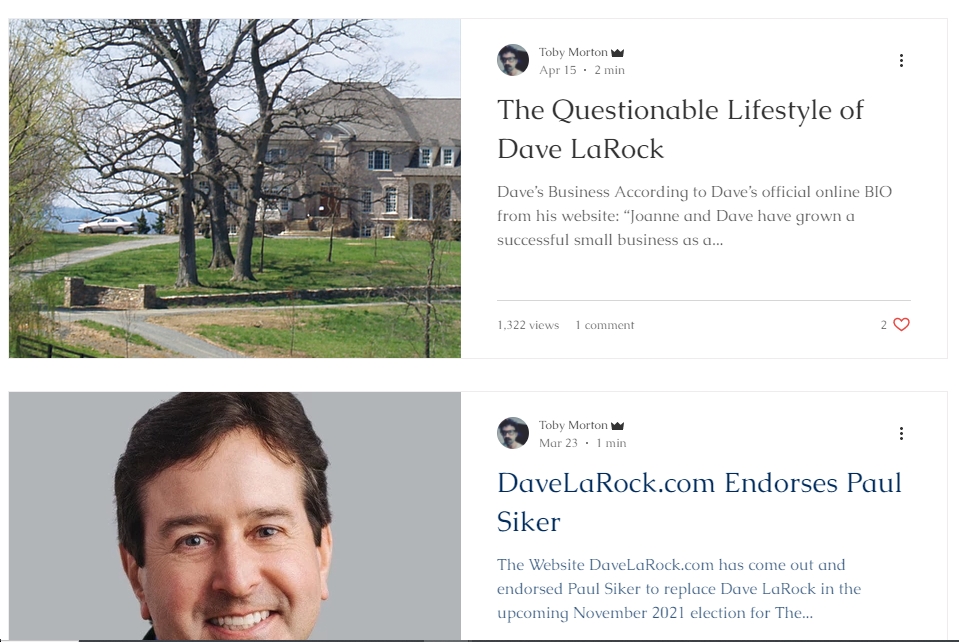 There's no paywall on Blue Virginia, and we definitely want to keep it that way! If you want to help support our work, you can donate here - thanks!
Also, you can
sign up for our weekly email list here
.